Page 2…(continued from previous post)
Naskapi Language Project
Three of the four new Naskapi language specialists have continued to work on language projects (Jimmy was unable to continue). Amanda is focusing on the translation of the book of Joshua, Kissandra on the book of First Samuel, and Kabimbetas on the book of First Kings. Silas will continue work on the Psalms and in reviewing the work of the new language specialists.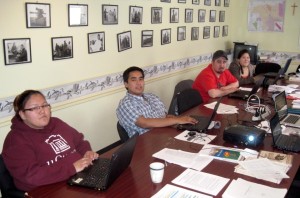 We also have several projects underway by Naskapi language "interns", that is, those who desire to work on Naskapi language projects but because of other commitments are unable to work on them full-time: Tshiueten continues his work on the book of Exodus; he completed the first draft up through most of chapter 25, Louise has completed most of the book of Esther, and Cheyenne has begun work on Second Samuel.
Since the publication of the Naskapi New Testament in 2007, there has been growing interest among Naskapi speakers both to learn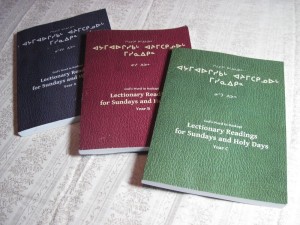 to read God's Word in their own language, and to have more scripture to read. For this reason, over the past four years, we have worked on the Naskapi Lectionary series, all the Sunday readings for the Old Testament lessons and the Psalms along with the Gospels and Epistles. This three-volume set contains more than 900 verses of the Old Testament lessons and nearly 800 verses from the Psalms, organized with the Epistle and Gospel readings for every Sunday and holy days of the year. Many Naskapis now have their own copies of the Lectionar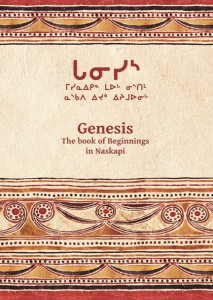 y readings that they bring with them to church each week.
In February, we also dedicated the book of Genesis in Naskapi, a 150-page illustrated volume with all 50 chapters of Genesis in Naskapi.
Besides the ongoing Old Testament translation work,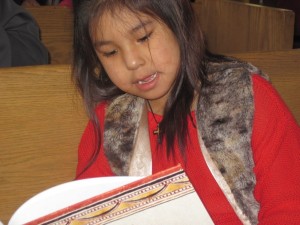 Bill continues to facilitate the work on the Naskapi Lexicon, Naskapi children's books and Naskapi stories and legends. The first edition of the Naskapi stories and legends series was published this summer, in a book in Naskapi with a literary English translation that was beautifully illustrated by our daughter Elizabeth, entitled "Kuihkwahchaw: Naskapi Wolverine Stories". (now available on-line http://www.lulu.com/spotlight/naskapi)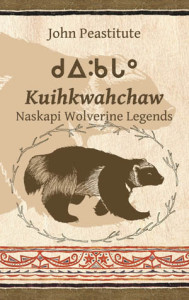 Mentoring and Consulting
As an ongoing part of becoming better equipped to serve the Naskapi, Innu, and other minority language development projects, Bill is continuing his development as a linguistics consultant-in-training, while Norma Jean is working on her education consultant training in the MA-TESOL classroom at Trinity Western University. Together they are being directed through guided reading in the elements of mentoring, teaching and learning cross-culturally, and peer-to-peer consulting. They will be taking on more of a mentoring role serving along side mother-tongue speakers and younger workers.
Living on the "west coast"
Since Norma Jean is following her MA program in British Columbia, we have located near there to be close to Trinity Western University.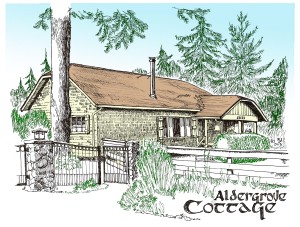 We rented out our house in Schefferville, which helps provide funds for us to rent a small cottage in Aldergrove, BC. We have been working on all the details of moving into a new place on the west coast, including finding a church, getting a phone and utilities, and having our license, insurance and registration transferred here. We have been furnishing the house mostly with free, donated, and thrift-store furniture and supplies, and are very grateful for these kinds of services.
Family Matters
Our son Nicodemus John is pursuing studies in social work, has been accepted as a third year student into the undergraduate program at Trinity Western University, and plans to live on-campus in the dorm there. He arrived in the area on August 28.
Elizabeth and Eric have been serving in a church in Korea, where they have been teaching English as a second language and helping with the summer Vacation Bible School program there. They will be returning home to Connecticut later in September after a short visit with us in British Columbia.
Ben and Tamika took Nya and Arion on a cross-Canada trip this summer and it was a joy to cross paths with them in British Columbia as well, before they headed south to California and a trip back east across the USA.
Thank you for your prayers for our ongoing work and school, as we continue to serve and look with anticipation on the way God will use us in the future.
Serving with you,
Bill and Norma Jean Jancewicz
25133 0 Ave
Aldergrove, BC V4W 2H4 CANADA
home phone: 604-381-4440 (no cell phone)
e-mail:
bill_jancewicz@sil.org
normajean_jancewicz@sil.org
website:
billjancewicz.zerflin.com
Financial support:
Wycliffe Bible Translators
PO Box 628200
Orlando, FL 32862-8200 USA
www.wycliffe.org
Wycliffe Canada
4316 10 St NE
Calgary, AB T2E 6K3
www.wycliffe.ca