We love this time of year, not the least reason are the two holidays: Canadian Thanksgiving (on US "Columbus Day") is this weekend and it is also the "peak" of the autumn colours here in Aldergrove BC. We would have snow on the ground by now in Schefferville. One benefit of being citizens of two countries that celebrate the same holiday on two different days is that we can celebrate twice: we will also celebrate US Thanksgiving in November the same way. One of the treats that I put off until these holidays (Thanksgiving and Christmas) is "TV Snack", also known as "Chex Mix" to others.
I went to my Fall 2011 post and put the computer in the kitchen so that I could follow my Chex Mix recipe. Click here for everything you need to know about my recipe. The Chex cereals are now available in stores in Canada, so I did not have to plan so far ahead this year. I am still getting used to the stove here in our little cottage, so I burned some of the mix near the bottom. Oh well, live and learn.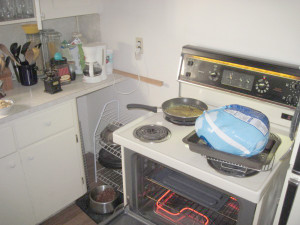 We are thankful for our home and God's blessing on our work and our projects here. We will be having Nicodemus over for Thanksgiving Day, and some of his and Norma Jean's fellow-students from Trinity Western University. Turkey, stuffing and the traditional foods, and looking forward to time together with family and friends. This year, we will visit some of them by Skype. May you all have a blessed Thanksgiving, this month or next. Happy Thanksgiving to you all, this month or next (or both!). Blessings, Bill and Norma Jean
PS: Don't pick out (only) the peanuts.