Our Dear Partners,
Like last year, we are about to take another trip to visit the Mushuau Innu community of Natuashish on the Labrador coast to help them with language development work and to encourage them about having a translation project in their own language. Once again, we are bringing three Naskapi mother-tongue translators who have worked on the Naskapi Bible translation and school curriculum in Naskapi with us, to help the Mushuau Innu to understand what this can mean to their community. Most of you will remember that the Mushuau Innu community is the Naskapi's nearest relative linguistically, and Naskapis and Mushuau Innu can understand each other pretty well when they speak to each other.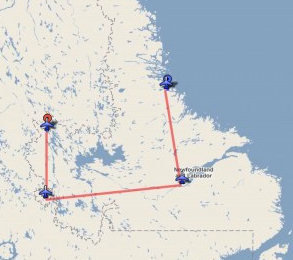 As usual, to get to Natuashish is not an easy trip: three separate airlines: (1) Air Inuit to fly south to Wabush, Labrador; (2) Provincial Airlines to fly east to Goose Bay, Labrador; (3) Innu Mikun Airlines to fly north to Natuashish. The bookings and schedules also require three days to get there as well–so we will get to spend some time in Goose Bay too, en route.
In fact for this trip, Norma Jean has been invited by the Innu school board to conduct workshops for the Innu-speaking classroom assistants in both the Sheshatshiu school (near Goose Bay) and the Natuashish school on the coast. So Norma Jean and I will spend a week in each community. The workshops will include making and using native language materials in the school setting so that children can learn to read their mother-tongue better.
The Naskapis will join us for the second week, when we go to Natuashish. The Naskapi like to call Natuashish their "sister community", since the people from both communities originally came from the same group of nomadic caribou hunters from northern Labrador and the Ungava Bay area. But their histories that diverged around the beginning of the 20th century resulted in two very different writing systems and some dialect differences that we are just learning about: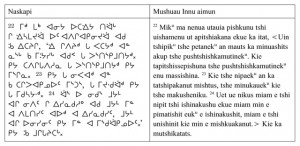 Besides the classroom literacy work that Norma Jean will be doing, the Naskapis are also going to assist with a beginning translation principles workshop to help the Mushuau Innu see that they too could participate in a translation project for their church and community.
Our hope is that we could help support the Mushuau Innu in establishing their own language development project that would also include work on the scriptures in their mother tongue, just as we have for the Naskapi community. The participation and enthusiasm of our Naskapi co-workers a key part of this visit.
Norma Jean and I leave for the Sheshatshiu community near Goose Bay this Friday, and spend a week there. The Naskapi will meet us there the following Friday (Sept 21) and accompany us to Natuashish for the second week. Then we will all return to Schefferville on Sept 30.
Please remember all of us in prayer as we travel and work together, and for us to be sensitive to all that God has for us during these next two weeks.
Remember our friend Andrew Laengert too as he returns home from his four weeks as a Wycliffe Canada intern with us. We know that God has used his time together with us too in his own life and in ours. Here's that link to his blog about his time here: 
Thank you all for your interest in and support for our work here in the north.
Serving with you, Bill and Norma Jean