Our Dear Partners,
Through the second half of 2012 we have found ourselves very busy on several fronts as we serve to provide better access to the light of God's Word in people's heart language.
Naskapi
Since the Naskapi New Testament was dedicated and published in 2007, interest in reading this book and other books in Naskapi has grown significantly. Bill has been involved in developing a course and teaching Naskapi adults to read Naskapi, with a curriculum that includes a focus on Naskapi grammar and lots of group and individual reading–mainly reading from the Gospels. In October this course was taught over three weeks as the "Naskapi Language Foundations" course.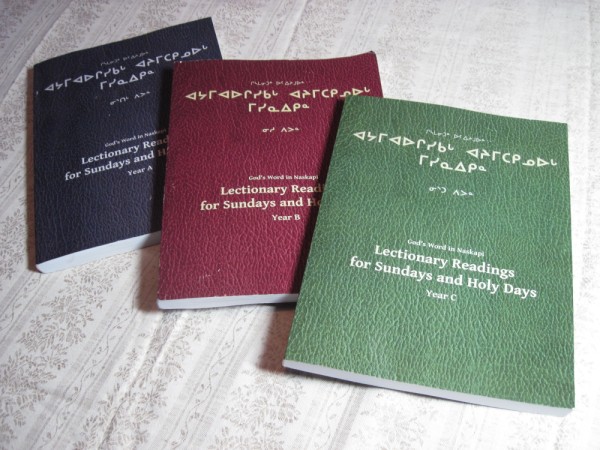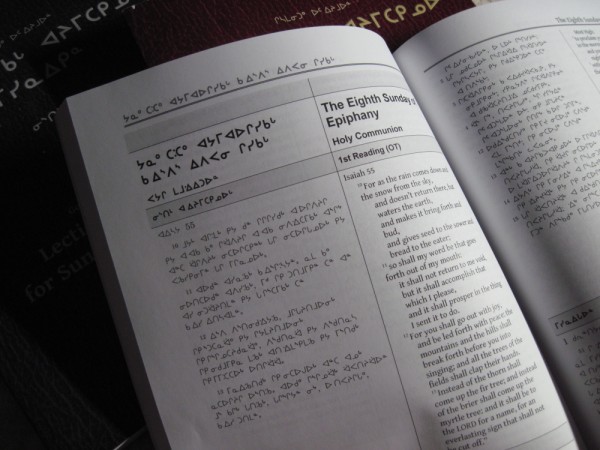 The Lectionary contains 7436 scripture verses read in church (during three years of Sundays)
3247 New Testament verses, 4190 Old Testament verses
This fall we helped the Naskapi translation team complete the final volume of the 3-year Sunday Lectionary. These books contain all the Sunday-morning Scripture readings from the Old Testament, the Psalms, the Epistles and the Gospels. Each Sunday, churches all around the world follow this reading plan that connects the topic of these readings to the events of the Christian year.
The first book of the Bible in Naskapi, Genesis, also underwent a thorough checking and revision, and we finished the typesetting, layout and proofreading in December. This means that early in 2013 there will be a dedication service at Kawawachikamach for the publication of Genesis in Naskapi.
Other Old Testament translation projects are ongoing, and include several new "intern" Naskapi Bible translators: Tshiuetin continues to work on Exodus, while Louise has nearly completed work on Esther; Edward, Cheyenne and others will be working on First Samuel, Job and Daniel in the coming months, time permitting.
Norma Jean has been working part-time in the Naskapi school curriculum office over the past few years: while Bill's work remained focused on translation, grammar and adult literacy, Norma Jean's work centers on preparing Naskapi materials for school children who are learning to read and write in their mother tongue.
Mushuau Innu
Norma Jean's education experience and expertise in mother tongue reading and writing has earned her invitations to assist the Labrador Innu school board with workshops for the Innu-speaking classroom assistants who work in the schools in the communities of Sheshatshiu and Natuashish in Labrador in September and November of last year. Some of the Naskapi books and materials we have produced in Quebec are being adapted for use in these Labrador native communities.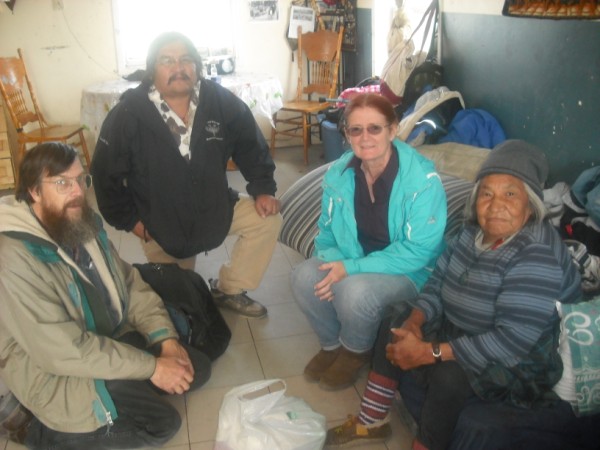 While the people in Natuashish speak a language variety very close to Naskapi, they cannot read the Naskapi Bible because it is written using a much different writing system than the one that they use. However, during our September visit there it was shown that Mushuau Innu people understand spoken Naskapi quite well. We are encouraged that we are able to play audio versions of the Scriptures while the Mushuau Innu people re-tell the stories in their own words.
In August and September, we hosted a Wycliffe Intern, Andrew Laengert, who spent four weeks with us learning what a language project was like and helping where he could. You can read about his experiences here:
http://www.wycliffe.ca/wycliffe/blog/post.jsp?nextgen&euid=ccabbf34-4ed8-4aa8-9
We hope that his experiences with us will help him to see how God may use his willing hands and heart in future ministry.
Academics
During the summer at SIL at the University of North Dakota, Bill finished his required course work for his graduate program towards an MA in Linguistics. Some paperwork, independent study and a thesis on the topic of the part that grammar can play in Naskapi literacy with keep him very busy in the months to come before we head back to North Dakota for the next summer session. During the fall Bill presented an acoustic phonetics paper on some aspects of the Naskapi and Mushuau Innu sound system at the Algonquian Conference held at the University of Chicago.
Norma Jean is currently exploring opportunities to enroll in graduate school to pursue studies in mother-tongue and multi-lingual education, building on her experience and work with Naskapi and Innu. Lord permitting, we hope that she can begin her program in the fall semester of this year, once Bill's program is completed.
Capacity-Building
Now, more than ever, Naskapi and Innu people are being trained to successfully carry on much of the work that remains to be done. In the current paradigm we are increasingly serving as facilitators who see potential and confidence in younger speakers of these languages, who are learning to do the language development tasks themselves. In this way we can multiply our efforts and ensure the sustainability of these language projects.
We enjoyed spending our holidays with all of our children and grandchildren during a visit to Connecticut, and it was a special treat to connect with some of you along the way. Our car has 23,000 more miles on it this year than it did at this time last year–and this number does not include the air and railroad miles we traveled between native communities and other places of service. We are grateful for your prayers for safe travels and for your ongoing support and interest in our work.
Serving with you,
Bill and Norma Jean Jancewicz