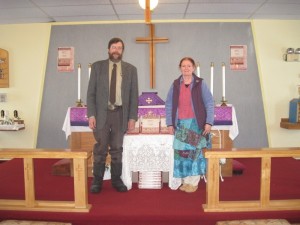 On Sunday, 17 February 2013, the Naskapi community celebrated during the dedication of the translation of the book of Genesis in Naskapi. This dedication was held during the Sunday morning services at St. John's Anglican Church. Rev. Martha Spence led the congregation in thanks to God for the many years of work by the Naskapi Development Corporation (NDC) translation team that brought this portion of God's Word into the hands of the Naskapi community in their own language.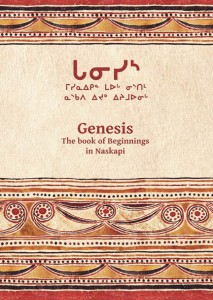 Silas Nabinicaboo, who was recently ordained a deacon at the Naskapi church, has served as the lead translator on this project since it was started in 1996. At that time, his salary was completely funded by donations from interested individuals and churches who partner with us for Bible translation. After a the first few years, however, Silas was invited by the NDC board of directors to continue work as a full-time employee as they realized the importance of Naskapi Bible translation as one of the core activities related to Naskapi language development.
The cover design of the books was inspired by the hand-painted caribou-skin ceremonial coats that were made and worn long ago by ancestors of the Naskapi. The Genesis books were printed in two sizes: standard 6″ x 9″ size for general reading and use in church, and "large print" 8″ x 10″ size for distribution to elders, use on the pulpit, and anywhere where large print text would make reading easier. Both sizes are available in library-quality hardcover or paperback. The NDC presented a gift copy of a large print edition to each Naskapi elder household. The remaining books are available for sale to the gen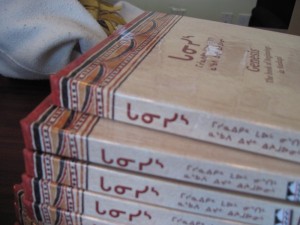 eral public at the NDC office at Kawawachikamach; $20 buys a hardcover book in either large print or regular size. Paperback versions are $10.
Outside Kawawa people can order their copies online here:
Regular size hardcover, large print hardcover, regular size paperback, large print paperback.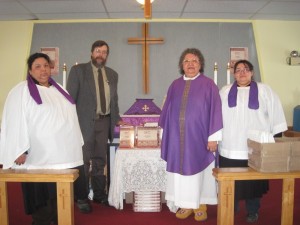 During the service, the books were displayed on the platform at the front of the church and all those assisting in conducting the service gathered around the books to pray God's blessing on all who would read His word from them in the years to come. After the prayers, gift editions were given to all the elders who could be present at the service.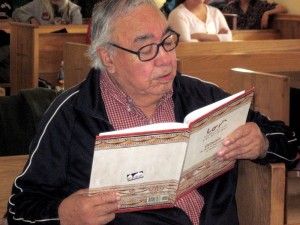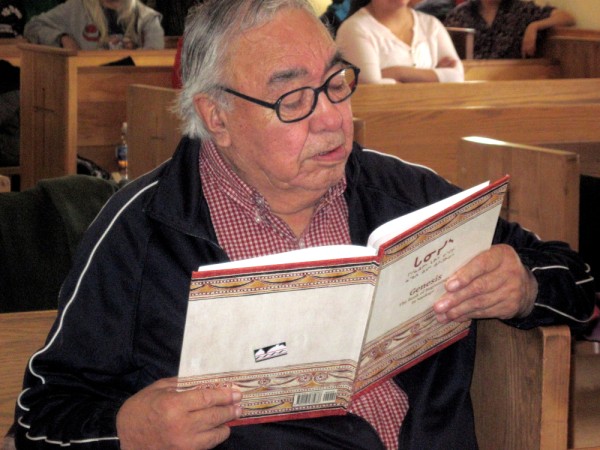 Following the service, a community feast was held in the church basement. We are grateful for God's faithfulness and the prayers and generous support of all our partners that has made this milestone possible.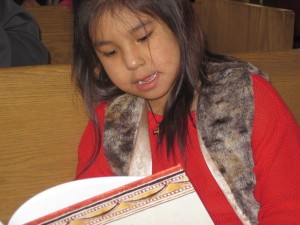 You can read a related article on the Naskapi News website here.