God is doing lots of good things here in Kawawa this spring, I just want to highlight a couple of them. Back in February, I received some remarkable news from the directors of the Naskapi Development Corporation (NDC), where I have been working with Silas over the past two decades plugging away at Naskapi Bible translation, and other Naskapi language development projects (New Testament, Naskapi children's books, church lectionary readings, Naskapi dictionary… such things).
The directors decided that to better serve the community, they should increase the translation staff–they decided to quadruple it!–and so, I was invited to recruit and hire persons for two to four new "Naskapi Language Specialists-in-training" positions to continue the Naskapi translation work beyond the projects we already have underway. So, in February, we posted the positions, that carry a modest (for Kawawa) salary, but include the possibility of becoming a life-changing career for the recruits with "the right stuff". On the last week of the posting, I interviewed four bright young Naskapi people: two women and two men, all of them between the ages of 25 and 30.
After testing their baseline skills in Naskapi, I prayerfully decided to hire and train all four of them, and began to work with them at the office on March 1.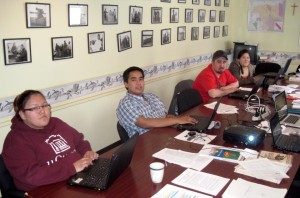 Since then, Amanda Swappie, Kabimbetas Noah Mokoush, Jimmy D. Shecanapish and Kissandra Sandy-Dominique have made tremendous progress surviving my instruction and applying themselves with daily practice, as they are learning to read Naskapi fluently, type and transcribe Naskapi syllabics into the computer, learn the various computer-based translation tools that help us today in language work (parallel Bible tools, dictionary and digital audio tools, commentaries and grammars), and study the structure of the Naskapi language.
The NDC office has been regenerated with the youthful enthusiasm of these new recruits, and we have started to refer to them as the "Fantastic Four". They are learning to work both as a team and independently, and have improved on many levels during their current probationary period of employment.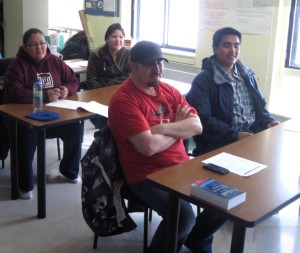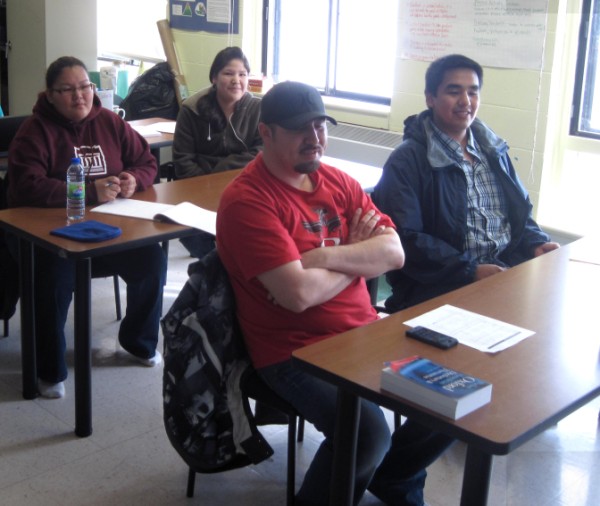 For the first three weeks of April, I was once again given the wonderful opportunity to serve as the guest instructor for the Naskapi-McGill teacher training program, teaching another section of the Naskapi Language Foundations course (Naskapi IV) to the cohort of about a dozen undergrad Naskapi students enrolled in the McGill University program. I was able to bring the "Fantastic Four" with me into the classroom to audit the grammar and literacy training that is being provided to this bright group of students.
And now, this week each of the "Four" will be starting on the adventure of translating a portion of the Old Testament into Naskapi–they are each beginning on a different "historical" book (Joshua, 1 & 2 Samuel, and Kings), which, Lord willing, they will all be working through for the long-term, as they continue to learn the skills and art of crafting a translation of the Bible into their own mother tongue.
All this while at the same time I am in "thesis mode" as work through the write-up of my own MA in linguistics final project. Our plans are to leave Schefferville at the end of this week as we begin to make our way over to SIL at the University of North Dakota where I am scheduled to defend my thesis this summer. If a candle had more than two ends I guess I would be burning those as well.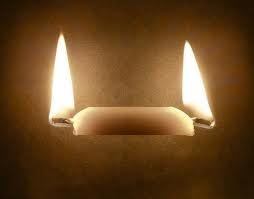 But I am so deeply grateful for the privilege of working with our new "Naskapi Language specialists-in-training" (the Fantastic Four) as well as the Naskapi-McGill teacher-training class. Seeing God at work in the lives of so many people here in the Naskapi community is exciting and humbling at the same time.
We know that you will want to remember to pray for each of them by name, but even if you can't remember their names, just bring the Fantastic Four working on the Naskapi Old Testament to the Lord, and He'll know who you are asking about. Remember us too, as we have many thousands of miles to travel in the next month or so (and all the loose ends to take care of, and a thesis to write…)
Serving with you, Bill and Norma Jean