Our dear partners,
This is the second follow-up to answer Frequently (F) Asked (A) Questions (Q). The response to "FAQ"-1 was so positive that we are thinking that this is the highlight of your week!
The question we get a LOT (especially once folks understand the answer to the first question) is:
(2) "So… what does Bill do […all day long…] ?"
The short answer is that he serves as Norma Jean's "support staff" **.
But Bill also keeps pretty busy outside of those responsibilities as well. Trinity Western University (TWU), where Norma Jean is enrolled, is also the home of CanIL, a training partner of Wycliffe Bible Translators and the center for SIL training in Canada. Besides the opportunity to connect with and serve along side the staff at CanIL, Bill is also upgrading his skills by taking a class to use current computer software for applied linguistics–language documentation, dictionary-making, grammar writing and preparing literacy materials. So at least two days a week Bill goes to the campus with Norma Jean to attend his classes there.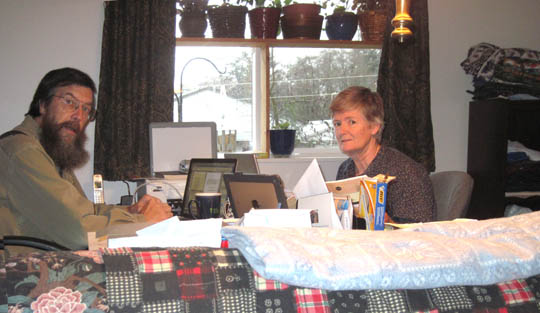 Bill is also involved in a Consultant Development program as part of Language Program Services for the Americas Area. He is completing assignments related to "Field Linguistics Specialist Certification". In short, he is continuing to upgrade his linguistics skills to better serve the Bible translation needs of the minority language groups we serve, including Naskapi, Mushuau Innu, Cree and other related languages.
There are also the Old Testament Bible Translation projects that the Naskapi team is working on, which he facilitates from a distance by internet communication with the Naskapi language specialists in the Naskapi community in Quebec. Several projects are just beginning and some are about to come to completion: We'll be sharing about these Naskapi publications in particular in the weeks to come.
Finally, and related to all of these, Bill is working on needed revisions to the Naskapi dictionary, moving the database to the current language documentation software, working on Naskapi literacy books, and training (via Skype) the Naskapi language specialists to use the translation tools.
As usual, if you have any further questions, feel free to send them to us. Maybe yours will be chosen for another "Frequently Asked Question" answered soon!
Thank you for sharing our vision for everyone to have access to God's Word in the language of their hearts.
Serving with you, Bill and Norma Jean Jancewicz
** "administrative assistant, driver, bodyguard, personal chef, APA guidelines resource, critic, editor, encourager"