This post is to announce the release of a new transcription of A History of the Naskapis of Schefferville, by the late Alan Cooke. In 1975 the Naskapi negotiators for the Northeastern Quebec Agreement (NEQA) asked Alan Cooke to "…write this history as a partial means of clearing up certain misunderstandings and misapprehensions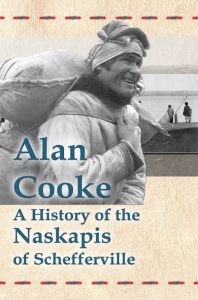 that have recurred at negotiating tables while discussing the Naskapis' relation to the James Bay Agreement…"
While the History has been useful to the fortunate few who have had access to it, it remained buried in the files of the Naskapi Nation of Kawawachikamach and the Naskapi Development Corporation (NDC) and a few other places until recently.
Because Bill had the need for a textbook to use to teach some of the culture and history component of the "Naskapi" class in the Naskapi-McGill Teacher Education program, he prepared this transcription from the original copies in time to be used by the class this spring. Having received permission from Naskapi Nation council, it is being released to general readership in the Naskapi community and beyond.
As Bill writes in the 2012 postscript to Alan Cooke's history: "…Since that time more than 35 years have past, and thirty of these have been a time of growth and self-determination in their own community of Kawawachikamach…With the current resurgence in resource development in the north, the Naskapi community is taking advantage of the increased opportunities and moving forward toward greater economic success. Further, a revival of Naskapi interest in their own identity and heritage has resulted in an increased participation in hunting, fishing and other traditional activities along with an increase in motivation towards Naskapi literacy among young people and younger adults, with the result that the Naskapi language and culture is being passed to the next generations. We look forward to the day when they tell their own story in their own words.
—Bill Jancewicz, Kawawachikamach, April 2012″
A 72-page 6″ x 9" paperback version of the transcription, illustrated with selected photographs from the Naskapi Development Corporation archives, containing annotations and newly-drawn maps is available for purchase from this website.
This book takes it's place now along side the growing number of Naskapi language books and resources published by the NDC here.