Our Dear Partners
In this Brief we'd like to ask for special prayer for our Mother Tongue Translators, especially a Naskapi young man named Kabimbetas.
You may recall his name from a Brief we sent out almost three years ago when I introduced you to the four new "Naskapi Language Specialists" that were hired and trained to work on the Naskapi Old Testament translation. Here's a link to the beginning of that story:
https://billjancewicz.com/2013/04/21/northern-translation-brief-20april2013/
Kabimbetas is a bright, young Naskapi language worker who started off strong, but was often distracted by other interests and diversions. During the 2014-2015 school year, he requested a leave of absence to attend college courses in North Bay, Ontario, and at the end of that time he attended last year's Mother Tongue Translator (MTT) workshop in April.
However, personal issues prevented him from returning to Kawawachikamach to work with the other Naskapi Language Specialists after that, and his employment was terminated as a result, last October.
He and I have maintained contact and at the end of January he wrote to me to say: "I feel guilty leaving my permanent position, as a language specialist, but i also felt that i needed a change in my life. … Since i left kawawa for school, i have dropped my bad habits and feel like I'm ready to start my translation on 1st kings. I am settled now in Timmins and have a desktop computer to work with."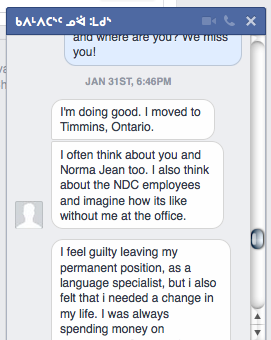 He told me that he was going to request another chance to work on Naskapi Old Testament translation from his location in Timmins, Ontario. As a non-employee, the Naskapi organization that sponsors the translation project can pay him a flat rate according to the amount of work he turns in.
I wrote to the Naskapi administration to support his request, and told them that Norma Jean and I had just read this passage in our daily readings: Luke 13.6-9. The Naskapi office administrator has agreed to let him work being paid "by the verse", provided that I (Bill) supervise him and review his work.
Last week, by email and Facebook messaging, I helped Kabimbetas get set up to translate again, and he submitted the remaining 39 verses of the first chapter of 1st Kings, by last Friday, Feb 5. In order be paid for the work he does, he needs to submit his finished translation by the end of the day each Friday. He did it!
So, please pray with us for Kabimbetas, that his good intentions supported by your prayers will keep him engaged with the Naskapi Bible translation project that he is assigned to, that he makes good progress, and that we can help him through any difficulties.
Also, please remember to keep all the other First Nations Mother Tongue Translators in your prayers as well: Silas, Tshiueten and Amanda (Naskapi project in Kawawa); Zipporah, Jessie, Theresa, Ruth M and Ruth K (New Oji-Cree project in Kingfisher Lake); Gayle and Dolores (Plains Cree project in Saskatoon).
May God touch them deeply through the Scriptures in their own languages, and may their number increase.
Serving with you,
Bill and Norma Jean Jancewicz
Consider becoming more involved and supporting this work by visiting these websites:
In the USA: https://www.wycliffe.org/partner/Jancewicz
In Canada: http://www.wycliffe.ca/m?Jancewicz