Our Dear Partners,
"Bible Translation is the mission of the whole church". This is not a new idea–it was stated as a principle in 2008 by Kirk Franklin, the former executive director of Wycliffe Bible Translators International (now Wycliffe Global Alliance).
http://www.lausanneworldpulse.com/perspectives-php/921/04-2008
As many of you know, God has been at work in the hearts and communities of First Nations communities in Canada, and we have been privileged to be involved with several language communities who are translating the Bible into their own mother tongues. First Nations speakers of their own indigenous languages are engaged in translating the Bible for their own communities, in Cree, Oji-Cree and Naskapi.
https://billjancewicz.com/2016/05/10/northern-translation-brief-2016-mother-tongue-translator-mtt-workshop/
Several "majority-language-speaking" (that's English) churches and many individuals across Canada and the USA have partnered with us since we first set out in 1987. Many of you who read this blog have shared in our work since then.
By means of messages like this one, you have been invited to connect with us in your thoughts and prayers, and also with and for the First Nations language speakers who we serve. Sometimes we also travel to visit many ministry partners in person. This November we are about to set off on another trip to do that, making stops and appointments in:
Preston, Connecticut (Nov 4-5) two home visits
Sutton, Vermont (Sunday, Nov 6) church visit-Sutton Freewill Baptist Church
Bozrah, Connecticut (Monday-Tuesday, Nov 7-8) two home visits
Norwich, Connecticut (Wednesday, Nov 9) men's morning prayer, Norwich Alliance Church
Derry, New Hampshire (Wednesday evening, Nov 9) church visit-Central Congregational Church
Waterford, Connecticut (Thursday evening, Nov 10) church visit-First Baptist Church of Waterford
Wynnewood, Pennsylvania (Sunday, Nov 13) church visit-All Saints Church
Baltimore, Maryland (Sunday evening, Nov 13) home visit
La Plata, Maryland (Monday evening, Nov 14) home visit
Clayton, North Carolina (Tuesday evening, Nov 15) home visit
Bluffton, South Carolina (Wednesday-Friday, Nov 16-18) campsite visit
Clearwater, Florida (Saturday-Tuesday, Nov 19-21) home visit
Chattsworth, Georgia (Wednesday-Friday, Nov 22-25) home visit
Westerville, Ohio (Saturday evening, Nov 26) home visit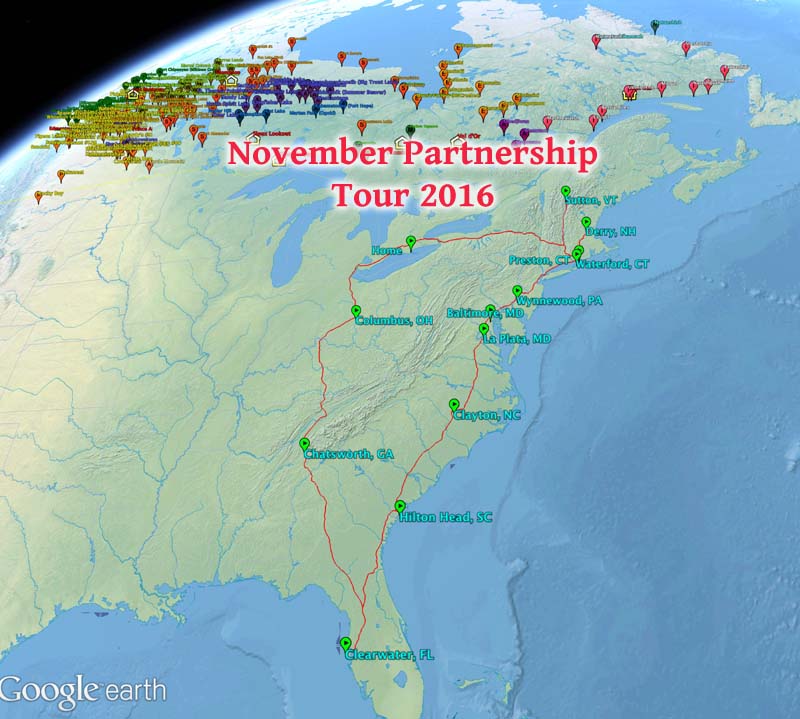 We will be on the road from Thursday, November 3 until nearly the end of the month, and we desire your prayers for safety, guidance and provision–and also for God's leading as we meet with and minister to many of you who have stood with us in this work.
A good way to contact us this month (and all the time) is my email: bill_jancewicz@sil.org
Serving with you, Bill and Norma Jean