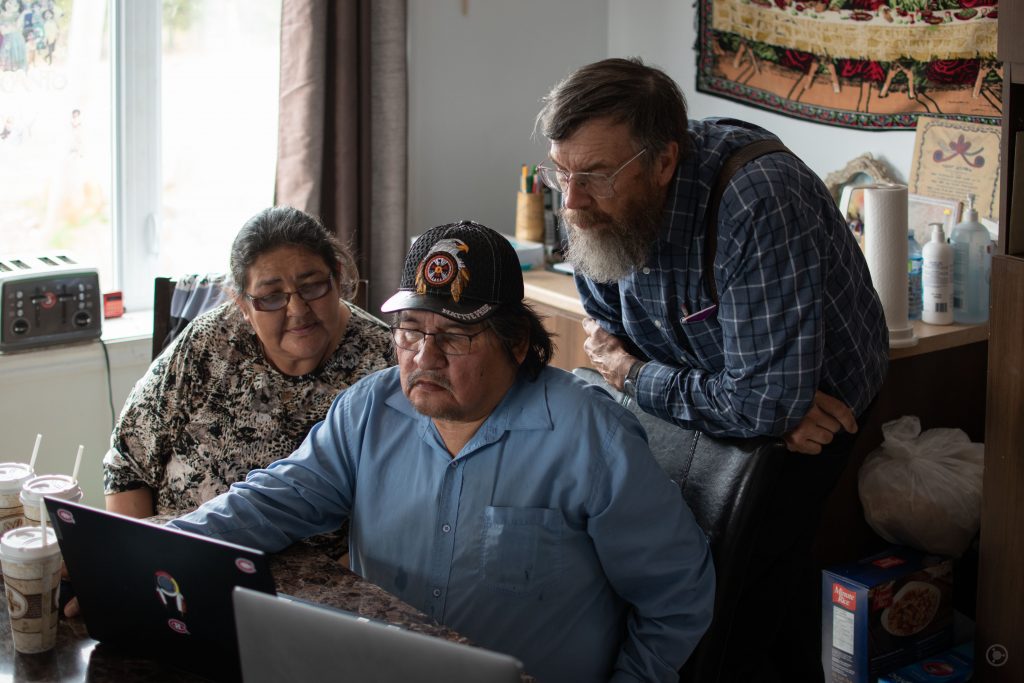 Our Dear Partners,
We are grateful for your interest in the Lord's work through us and your prayers for us. We are excited to share with you some good news about some recent developments in God at work in Bible Translation for First Nations communities in Canada.
In a Northern Translation Brief more than two years ago now, we shared with you some of the challenges that the Naskapi Translation Project was facing as the Covid-19 pandemic took hold: Since 2020, there have been no full time language workersat the Naskapi Development Corporation, the local agency that sponsors the Naskapi project.
Here's a link to that story: [Northern Translation Brief 11Sep2020].
You may also recall that a dozen years ago, I (Bill) had the privilege of teaching four units of a Naskapi reading and writing course to Naskapi speakers enrolled in the Naskapi-McGill University Teacher Training program. We wrote about that experience back then and you can read about it by clicking this link: [Naskapi-McGill Class].
This fall, the Naskapi Development Corporation leadership decided to make a fresh start in rebuilding their language and culture department. They began by creating a new professional-level position that they called the "NDC Cultural Development Officer", and invited me to assist them in recruiting, hiring and training a local Naskapi speaker to fill this position.
To come right to the point, after conducting interviews with candidates in November, the NDC hired Marianne Chescappio to this role, and this January she began her training and mentorship under my guidance. She begins her second full week on the job at NDC this Monday.
Since graduating from the Naskapi-McGill program in 2014, Marianne has served as a family and youth wellness counselor for the Naskapi Nation, and more recently as a counselor at the Naskapi community women's shelter. She already has a heart of service for her community, language and culture.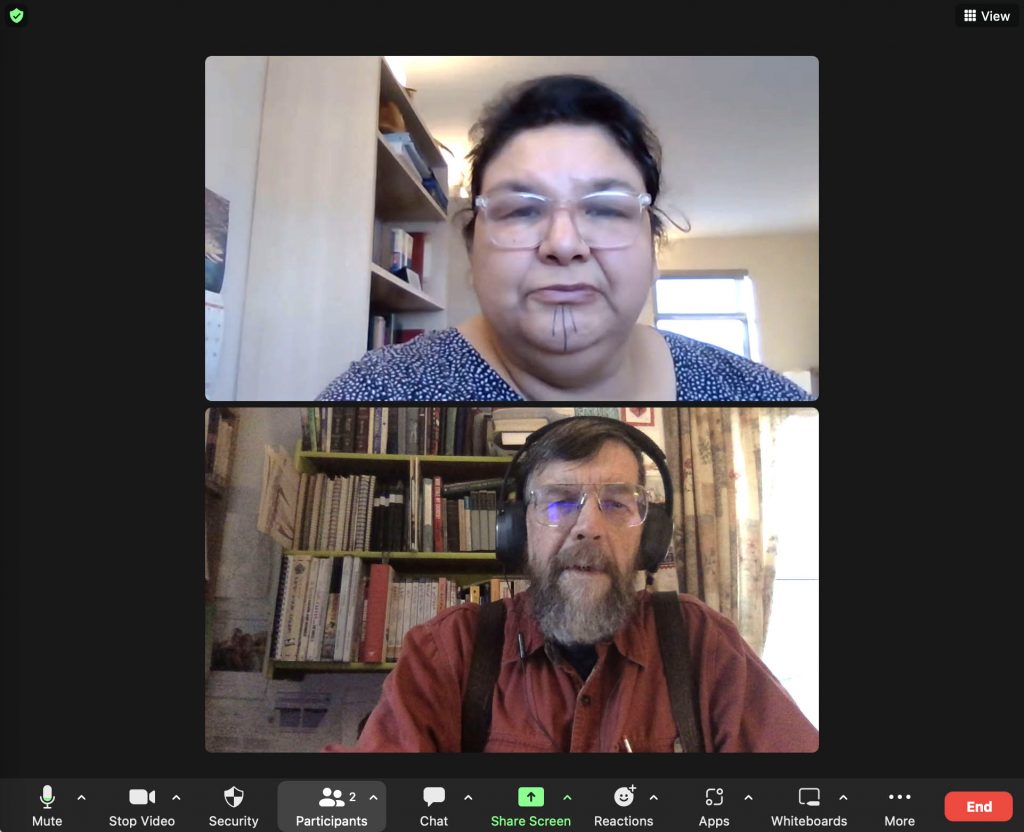 Each morning these days, Marianne meets with me over Zoom to learn about and work with the various Naskapi language projects that the NDC is responsible for, improving her skills in Naskapi language grammar, literacy and writing that she will need to carry out her new role.
We also are working our way through becoming familiar with all the digital resources (computer programs, apps, keyboards, websites) that make the scriptures in the Naskapi language accessible to her people.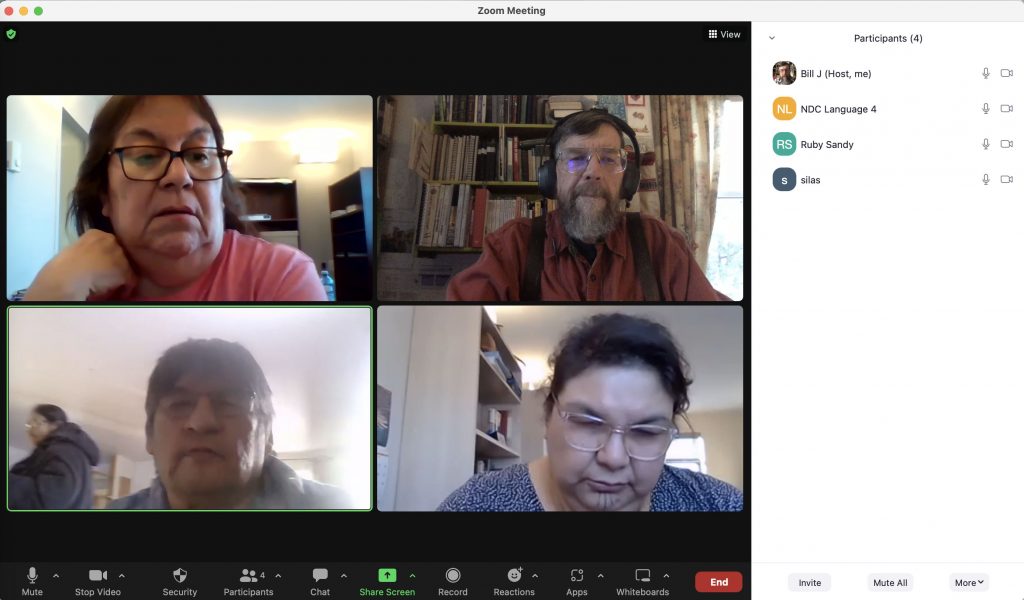 During our afternoon Naskapi Translation Zoom meeting, Marianne joins in, beginning to take her role working with the team. This week, after our usual greetings and prayer, Marianne, Ruby, and Silas all shared what it means to them to participate in the language development and translation services for their community:
---
Marianne: "I feel happy and privileged—I have always wanted to have this kind of job, working with our language and gaining capacity in these skills that are so connected with our identity as Naskapi people. Working with the translation helps my self-esteem and my own mental heath, being a part of connecting our people with the Creator and our culture."
---
Ruby: "I've always envied those who were working on the Naskapi translation project, but did not have the confidence in my own reading ability to join them. Since I have started working with the translation team several months ago, my own ability has improved, and working with the Bible gives me comfort and peace in my life."
---
Silas: "Even though I have retired from my full-time position in the language department, I did not want to retire from working on the Naskapi Bible Translation. I want to do all I can so that my community can have the whole Bible in their hands. I enjoy using every spare minute I have now to work on the Naskapi translation."
---
After encouraging each other (and me!) with these words, we spent the remainder of the afternoon team-checking the first three chapters of the book of Deuteronomy in Naskapi. Besides moving this translation project along toward our publication goal, it provides hands-on experience for Marianne as she continues to grow into her new role in the Naskapi Language project.
We thank God for the answer to your prayers by calling Marianne into her new role in the Naskapi language project.
Pray for Marianne as she continues to learn and grow in her new position, and for the selection of just the right other team members to work with her as the Naskapi community rebuilds their language department and their capacity.
Marianne also asks for prayer for her parents, who are recovering from a rare disease; for her daughter Pamela and son Kautinat who are struggling with addictions; and for her daughter Tamia, who has moved to North Bay, Ontario for post-secondary studies.
Continue to pray for Silas, Bill, Ruby, and Marianne, and the consultants as they plug away at Naskapi translation projects and the dictionary revisions over Zoom.
Silas also asks prayer for his wife Susan who is has completed her treatments for cancer—her follow up visit with her doctor scheduled for this month has been delayed.
The Naskapi book of Exodus is currently being type-set by the Canadian Bible Society in preparation for publication: Pray for steady progress and a good outcome; and also for the completion of the remaining work on the recorded audio files so that Naskapi speakers may also listen along with the translated text.


---

Thank you for your kind partnership with us in the ministry God has called us to, and for your prayers and interest in His work in our lives and in the lives of those we connect with.

Serving with you,
Bill & Norma Jean Jancewicz