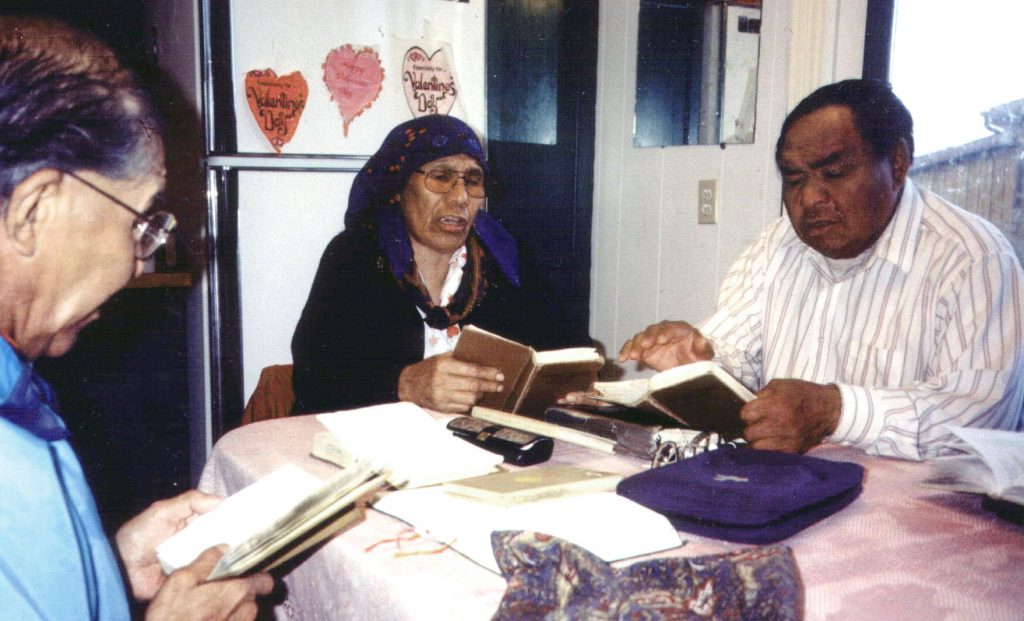 Our Dear Partners,
David & Suzan Swappie are among our dearest friends in the Naskapi community of Kawawachikamach. We first met them in 1988 when we moved into Noah Einish's house to begin our journey into the lives and language of the Naskapi people. In the picture above, taken more than 25 years ago, David (on the right) is explaining a hymn from a Cree language hymnal with his wife Suzan (middle) to a group gathered at their home for a Sunday night Bible study. Noah is pictured on the left. (Noah passed away several years ago now.)
God's Word at Work
In the summer of 1991, David and Suzan and several other people from the Naskapi community traveled to Mistissini, a Cree-speaking community in Northern Quebec. The occasion was a "Gospel Jamboree", a gathering for hymn-singing and Bible teaching. These gatherings are still very common in First Nations communities, and whenever possible they are conducted in the local language. The James Bay Cree language spoken there is closely related to Naskapi, and most people understand each other well enough in conversation. David and the others heard the message of Christ's love and forgiveness in a language very close to their own heart language, and responded to it with joy and a lifelong committment to following Jesus.
We remember David earnestly requesting that we work on translating the books of the Old Testament into Naskapi. Even before the Naskapi New Testament was being worked on and completed, he was eager to read the lessons that these histories of the People of Israel provide for us.
In 2013, when the "Naskapi Language Specialist" program was instituted at the Naskapi Development Corporation, we finally began to have available to us some of the additional resources we needed to begin work on these Old Testament books.
---
https://billjancewicz.com/2013/04/21/northern-translation-brief-20april2013/
---
This program also had at its heart a goal to build up our translation and language development capacity for the long term, by recruiting bright, young Naskapi translation staff. During their training period, the first four Naskapi Language Specialists were each assigned to work on the first draft of a different Old Testament book.
Amanda Swappie worked on Joshua,
Kissandra Sandy worked on First Samuel,
Kabimbetas Noah Mokoush worked on First Kings, and
Medora Losier (David's granddaughter) started work on Second Samuel.
---
Silas Nabinicaboo, as head of the department, had been working on the first draft of Judges, and more recently the Song of Solomon. He provides years of translation experience and guidance to the rest of the team.
---
For various personal reasons, some of the Language Specialists were unable to continue on in their roles, but in time they were replaced:
Tshiueten Vachon joined the team to continue on the first draft of the books of Jonah and Exodus, and has gone on to work on Deuteronomy, and now he has taken over working on First Samuel where Kissandra left off: only about 6 chapters still remain to be translated in this book as of January 2020.
Ruby Nabinicaboo was hired by the department in early 2019, and after working on Esther, has taken over work on the first draft of Second Samuel where Medora left off.
In the spring of 2019, the entire translation staff has determined to work on the book of Job together as a team.
Last October, we were traveling and staying overnight attending a Wycliffe event in Toronto. That evening we went to the event without our cell phone. Later when we were back in our room our cell phone rang with an "unidentified" phone number–it turned out to be David Swappie, calling from Kawawachikamach. Even though the they are dear friends, it is rare that we receive phone calls from them.
We talked with him on the phone in the Naskapi language, and after some brief preliminary greetings he got right to the point and asked us for something he has asked us for in previous years: "I want a Naskapi translation of the book of First Samuel."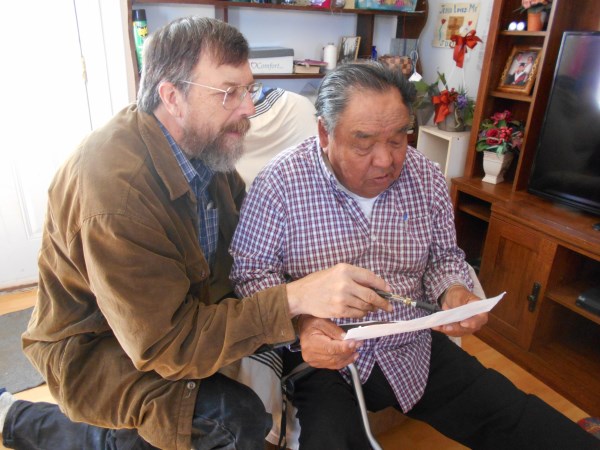 What a joy and answer to your prayers this phone call represents. We have asked you join us in prayer that God would create a hunger in the hearts of people for His Word–and this is an encouraging answer to those prayers.
Because of the work of the Naskapi Language Specialists over the past five years, we already have a good start on the very Scriptures that David hungers for. The first draft of 1 Samuel is done into chapter 20 already. There are also significant episodes for the book of 2 Samuel in first draft, through chapter 7. There are 11 chapters of 1 Kings, all of the book of Esther, and three chapters of the book of Job, too.
A "first draft" is only the beginning, much work remains before Scriptures can be published.
Each book needs to be "team checked" chapter-by-chapter by the entire translation team working together as a group.
Next, each team member is also assigned to do a "back-translation" of the Naskapi language translation into English. This not only assures the team that the translation is accurate, but also provides guidance and verification for Bible agencies and consultants.
After this, a translation consultant needs to review the translation with the translators to ensure exegetical accuracy and to provide training and capacity-building to the translation team.
In addition, Naskapi community members are be invited to participate in a read-through of the entire translation prior to official publication.
But David's request is a welcome motivator and encouragement to the translation team. Answering his request provides David (and others) with a preliminary "checking edition"  that not only gives him access to these Scriptures that he's been waiting so patiently for, but also provides a way for his input to be taken into account as the translation team strives to make a quality translation of the Word of God into the Naskapi language.
Last November when we were completing the checking copies for the finished book of Exodus, we also prepared excerpts of the Naskapi Old Testament portions that David had requested, and printed out a few copies for distribution to the translation team and translation reviewers in the community.
---
They arrived in the community just before Christmas.
We are so grateful for this answer to your prayers, and being able to witness God at work bringing His message of hope to the Naskapi community through the work of the translators, and the wonderful opportunity that David's request provided. Now, not only will he be able to read and provide encouragment and feedback to the translation team, but all those who gather in their home for Bible study, prayer and worship will also now hear the words of these Scriptures for the first time in the Naskapi language.
Thank you for your part in this.
Serving with you,
Bill & Norma Jean