Our Dear Partners,
Two months ago, we sent out a Translation Brief asking you to remember to pray for Kabimbetas Noah Mokoush, a Naskapi translator who wanted a second chance to work on Old Testament translation.
You can click and read that Brief here:
Northern Translation Brief 10Feb2016
We would like to thank you for your prayers for him and to bring you up-to-date with this Brief. For the past 9 weeks, Kabimbetas Noah has continued to work on the first draft of the translation of the Old Testament book of First Kings in Naskapi, and has consistently submitted his work to me for review each Friday as he agreed. You may remember that he currently lives outside the Naskapi community. He lives with his girlfriend Tara's family in Timmins Ontario, so he does not have the benefit of working with the rest of the Naskapi translators in Kawawachikamach Quebec around him. They can read and comment on his translation after it has been submitted for review, but it is still a challenge to work on translation this way.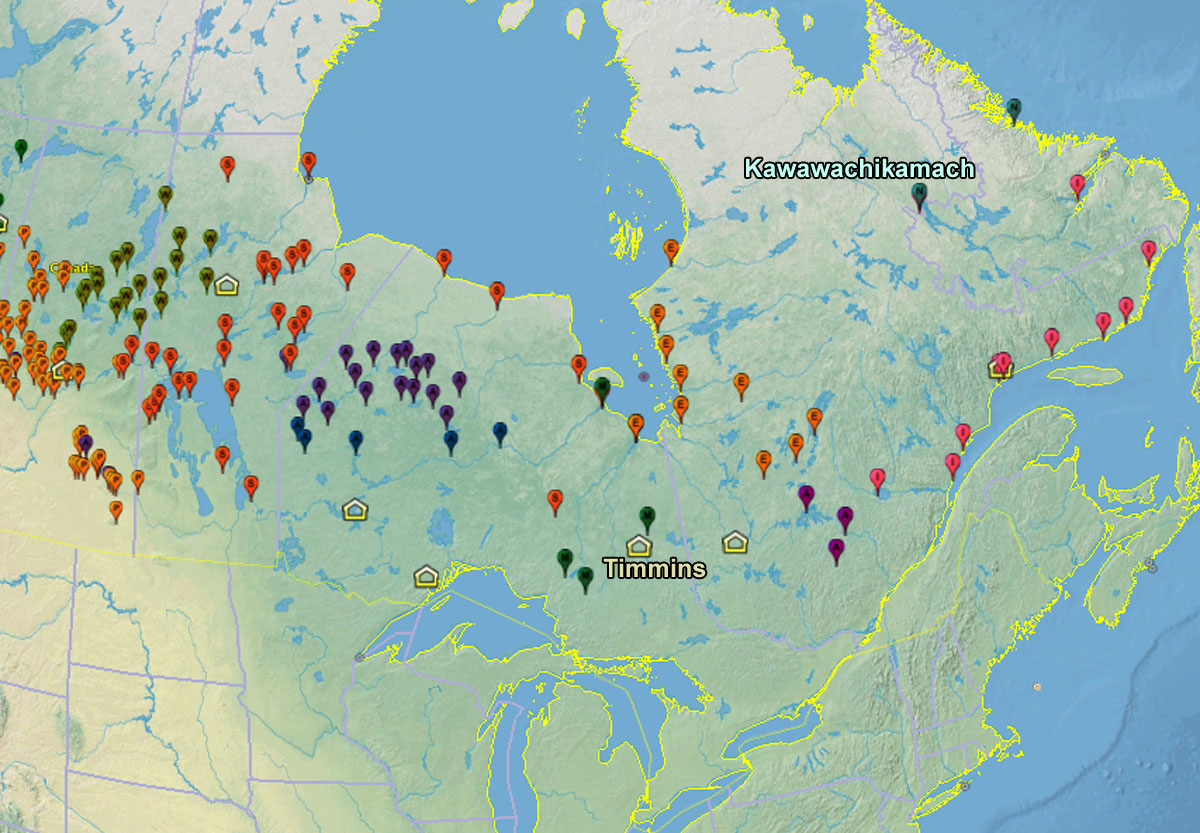 Over the past 9 weeks, he only missed one Friday (Good Friday) turning in his work for review. He often gets 40 verses or more done in a week, but on 19 March he turned in 62 verses and last Friday he turned in 70 verses, his best week so far. He is currently working on First Kings chapter 12, the story of Rehoboam and Jeroboam.
We mentioned in the 10 February 2016 Translation Brief that Kabimbetas Noah was one of the original "Fantastic Four", the new young translators that were hired and trained to work together at the Naskapi Development Corporation in 2013.
The Fantastic Four: Northern Translation Brief 20April2013
We'd like to share a little bit more about this bright young man. His father, George Guanish, was one of the first translators to work with us on the contemporary Naskapi Bible translation project back in the 1990s.
George worked with us to translate the first scripture in Naskapi, portions of the Life of Christ called the "Walking With Jesus" series. We were just with his father George during meetings between the Quebec government ministers and First Nations leadership in March.
George's father, Joseph Guanish, was the long-time chief of the Naskapi community when we first moved to Kawawachikamach in 1988. It was Joseph's vision for Bible Translation and language development work for the Naskapi that resulted in our invitation to live in the community and to work with the Naskapi Development Corporation (NDC), to help them establish their translation and linguistics services department. Joseph served as the president of the NDC for many years, and his son George has also served as president of NDC and is currently on the board of directors.
Kabimbetas Noah has a strong heritage. His Naskapi name comes from the word /pimipiyitaaw/ ᐱᒥᐱᔨᑕᐤ 'he runs'. This verb derives to a noun, /kaa-pimipiyitaast/ ᑲᐱᒥᐱᔨᑕᔅᑦ (Kabimbetas) which then means 'little runner'.
We are all so grateful that you are cheering him on in prayer as he runs the race set before him, in the footsteps of his father George and grandfather Joseph.
Translating the Bible is hard work even in the best of conditions. Please continue to remember to pray for Kabimbetas Noah as he continues to overcome the challenges that face him, and that the Word of God in his own language will continue to speak to his own heart and the hearts of his family and his people in Kawawachikamach.
Serving with you,
Bill and Norma Jean
Consider becoming more involved and supporting this work by visiting these websites:
In the USA: https://www.wycliffe.org/partner/Jancewicz
In Canada: http://www.wycliffe.ca/m?Jancewicz