Our Dear Partners,
Since we last connected in a Translation Brief (last month), we have journeyed from the west coast of Canada to the east coast of the US. We have been enjoying connections with family, friends and partners, and we are about to travel again to support First Nations Bible Translation work in Canada.
Plains Cree Translation
From July 7-17, we have been asked to help with the audio recording of the book of Luke in Plains Cree. Dolores and Gayle, the Cree translators, have completed their translation and review of the Luke's Gospel, and the Canadian Bible Society is facilitating a recording session in Kitchener-Waterloo Ontario. I (Bill) will work with the Bible Society translation consultant and assist with the recording procedure, as Dolores reads through the book. When the recording is made, edited and approved, it will accompany the printed text of the book of Luke, and also be available for Plains Cree speakers to listen to and hear the new translation of this portion of scripture in their own language.
Please pray that God will be in the details for the whole 10 days, helping us with travel, technical details and good relationships for this project.
You can read more about the Plains Cree translation project here:
http://billjancewicz.com/2014/12/11/northern-translation-brief-cuthand-plains-cree-translation/
Oji-Cree Translation
From July 20-30, we will be traveling up to the Oji-Cree Kingfisher Lake community in northern Ontario.
During our days in Kingfisher, we will be meeting with the translation team leadership to discuss their vision and plans for the work of the Oji-Cree translators, and their local translation committee.
We will also be working each day with the translators themselves, to help them gain capacity, learn about how and to move ahead on their translation project work, set intermediate and long-term goals, help them with the technical skills they need, and engage in more practice and training.
Please pray for our trip north to Kingfisher, for the Oji-Cree translation team and committee, and all the details, goals and relationships
You can read more about the Oji-Cree translation project here:
http://billjancewicz.com/2015/01/24/northern-translation-brief-kingfisher-lake-oji-cree/
Looking for a "home base"
As many of you may remember from a previous post, we are in the process of relocating to the greater Toronto region to better serve the various First Nations Bible Translation projects that we partner with across northern Canada. During the days of our work this month with the Plains Cree and the Oji-Cree, we will also be meeting with real estate representatives, visiting houses, looking online and listening for God's leading as to our next new address.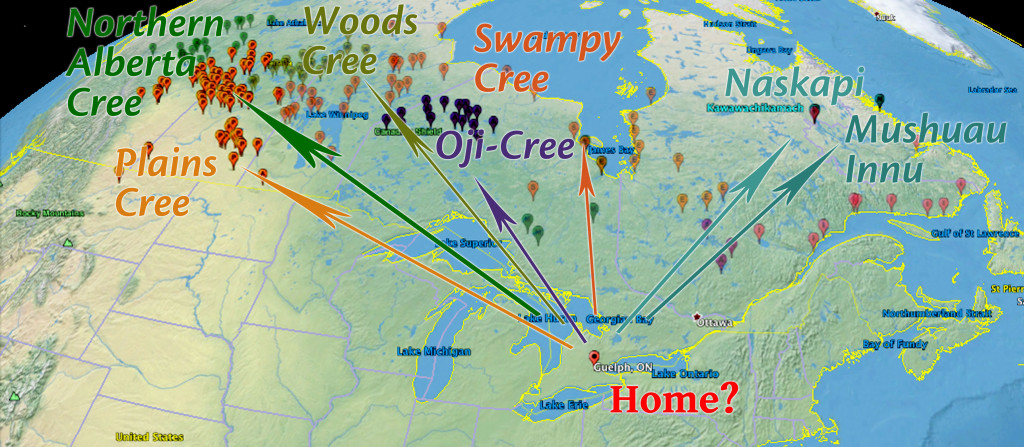 Please pray for wisdom, direction and provision as we look for a new place to work from and call "home" when we are not in one of the host First Nations communities.
Later in August, we have plans to travel to northern Quebec to continue to support the Naskapi language project in Kawawachikamach. More details about that work in another post.
Serving with you,
Bill and Norma Jean