There is a story that Jesus tells in the Bible about a king who summoned his servants and entrusted them each with a sum of money as an investment (Luke 19:11-27). This story teaches about being faithful in serving God with the things he has given us, but what is interesting about this particular story are the rewards that the faithful servants receive: 'Well done, my good servant!' his master replied. 'Because you have been trustworthy in a very small matter, take charge of ten cities.'
The First Nations Bible Translation Capacity-Building Initiative
Our Dear Partners,
Our work in Naskapi territory has begun to bear fruit. We have spent many years focusing on Bible Translation and Mother-Tongue education in a single community where Naskapi is spoken, in northern Quebec. It has been our privilege to witness a gradual transformation where more and more people are engaging with God's Word in Naskapi. This June, two Naskapi women, Cheyenne and Marianne, joined us at a gathering for First Nations Bible Translation capacity-building, We heard them share how having the Bible in Naskapi has helped them in their relationship to God: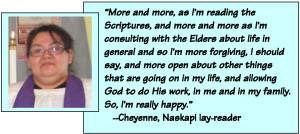 While testimonies like these are very encouraging to us on many levels, it is very significant that this was shared with some of their fellow First-Nations people from related Cree and Oji-Cree language communities across Canada's north. Our meetings this June with people from First Nations communities has opened doors for work in these languages. Our dialogue with them identified several priorities:
Acceleration and continuation of the Plains Cree Bible Translation project.
The establishment of a Bible Translation and language development project for Kingfisher Lake Oji-Cree and the surrounding Oji-Cree communities.
The establishment of a Bible translation initiative that would result in a cluster of several Cree dialects working on the translation of the same books. This cluster could get its start with a series of workshops to train Cree speakers from each participating community in Bible translation and literacy (reading and writing) which could also include Naskapi from Quebec, Oji-Cree from Ontario and Innu from Labrador.
—To Be Continued in Part 2