In the previous post, we told you about several priorities that came out of the Prince Albert meetings with First Nations language speakers and church leaders:
Acceleration and continuation of the Plains Cree Bible Translation project.
The establishment of a Bible Translation and language development project for Kingfisher Lake Oji-Cree and the surrounding Oji-Cree communities.
The establishment of a Bible translation initiative that would result in a cluster of several Cree dialects working on the translation of the same books. This cluster could get its start with a series of workshops to train Cree speakers from each participating community in Bible translation and literacy (reading and writing) which would also include Naskapi from Quebec, Oji-Cree from Ontario and Innu from Labrador.
Multiplication as a sustainable strategy
This brings us back to Jesus' story that we referred to in the previous post. God has been using us primarily in the Naskapi community–and He is still doing a great work there. Now, we are being invited to grow from there, and use our Naskapi project experience as a model and training opportunity for other communities.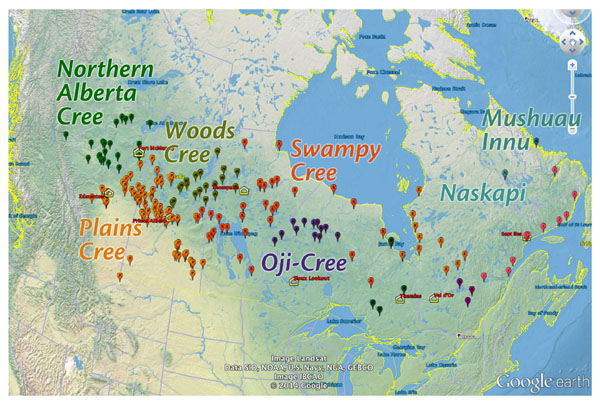 To fulfill this vision, we are asking God to send us six to eight new workers (that is, three or more new teams) who are willing to be trained and mentored to serve alongside the mother-tongue speakers of these languages in these new priority areas in Bible translation and language development.
While we are here in Langley BC, we are also connecting with CanIL, the Canadian Institute of Linguistics at Trinity Western University. CanIL is the Wycliffe and SIL International training partner in Canada. It is a good opportunity for us to present the language program needs to students that God has already been calling into this kind of ministry.
We will also be developing and deepening relationships with other First Nations language speakers and their communities that have been waiting for adequate access to the Scriptures in their mother tongue. At the same time, we will work on establishing learning opportunities so that more First Nations mother tongue speakers can become translators for their own languages, building their capacity for literacy and material development, while recruiting, guiding and mentoring the new language program workers God brings into these priority projects.
Fall development trip
This September-October we will be traveling to Cree, Oji-Cree and Naskapi communities to continue developing these relationships and to provide language and literacy training to Naskapi teachers and mother-tongue translators. We will also be meeting with Canadian Bible Society and First Nations church leaders to coordinate and support each others' work on this initiative. Along the way, we also plan to visit with many of you who support our work with prayers and gifts to share our new and expanded vision and responsibility.
–To Be Concluded in Part 3