On May 23, 2016, Cree Bible translator The Rev. Stan Cuthand age 97, passed away in Saskatchewan after a hospital stay. His life work was the translation of the Bible into Plains Cree, his own mother-tongue. Read his obituary here.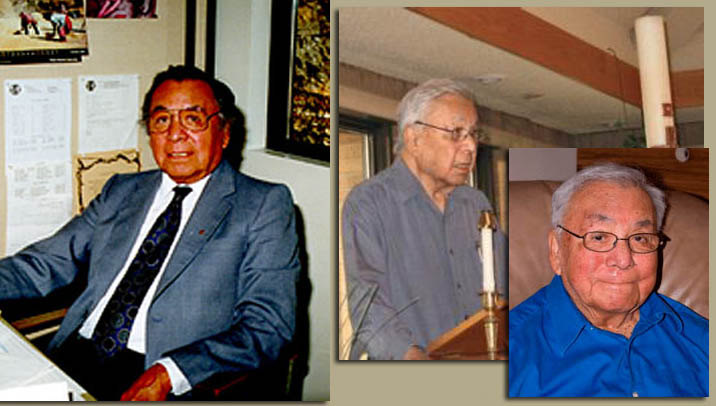 After earning his Bachelors of Theology in 1944, Rev. Cuthand served as a priest in the Anglican Church. He also worked as assistant professor of Native Studies at the University of Manitoba, and "retired" to Saskatchewan to work at First Nations University of Canada and Saskatchewan Indian Cultural Centre.
Around 1990, at 71 years of age, Rev. Cuthand was hired by the Canadian Bible Society (CBS) to draft a new translation of the New Testament in Plains Cree, plus 40% of the Old Testament, which included all the major stories and themes.
Plains Cree Bible Translation Project
Throughout the 1990s, the Plains Cree translation project was coordinated by Rev. Bob Bryce, working with CBS. He facilitated a routine of two to three translation and review workshops per year, usually held in North Battleford, Saskatchewan, to revise and approve with Stan's first draft. Most of the Old Testament sections were reviewed during this period, but little was brought to publication or distribution.
In the late 1990s, Wycliffe / SIL-North America Branch assigned linguist Kimb Givens (Spender) to facilitate the project. She was based in Saskatoon until about 2003 when she married and moved to Maine. She continued to assist from time to time from her home in Maine.
In 2001 Bob Bryce retired from the Canadian Bible Society, and Ruth (Spielmann) Heeg was assigned as project coordinator, working from the Society's translation office Kitchener, along with many other duties, fulfilling a joint assignment with SIL and CBS.
Around 2002, Wycliffe / SIL-North America Branch assigned Meg Billingsley to facilitate the project jointly with Ruth. She was based in Prince Albert, and her term of service overlapped with Kimb's. Meg was reassigned to Mi'kmaq in 2008.
In 2004 Stan Cuthand completed his translation of the first draft of the 40% Old Testament and complete New Testament, and continued to assist at many of the workshops with Ruth, Kimb, and Meg.
From 2001 to 2013 Ruth continued to coordinate the program and to facilitate the translation checking workshops twice a year in North Battleford and Saskatoon. Often if there were too many participants at the workshops they could be very slow and cumbersome. There was often great participation but little progress. Eventually, it was decided to work with a smaller team of Cree translator-reviewers.
From 2014 – present Ruth mostly worked with just two Cree-speaking reviewers, Dolores Sand and Gayle Weenie. This team made much better progress.
The following sections of the Plains Cree translation have been published and distributed:
Luke chapters 22-24 (2004)
Ruth (2004)
Mark (2010)
Selections of the Psalms (2013)
James (2014)
In July 2015 the entire book of Luke was finalized and Bill and Norma Jean assisted Ruth in recording the entire book read by Dolores. It will be ready to publish once the final editing is accomplished on the audio files. Matthew is ready to be recorded next. The Gospel of John will be ready after a final check of chapters 20 and 21, and the book of Acts is currently being reviewed and revised by Ruth, Dolores and Gayle.
Please continue to pray for the translation team as they complete the work begun by Stan Cuthand, so that Plains Cree speakers across Canada will have God's Word in their own language.