Our Dear Partners
We just got home from another working trip the Oji-Cree community of Kingfisher Lake in Northern Ontario. They started their own Bible translation project in Oji-Cree last year, and have asked for more training from us.
The Dr. William Winter School of Ministry
The Kingfisher Lake community was the home of the late Dr. William Winter, a respected Oji-Cree elder and church leader who had a dream many years ago of establishing a program for training indigenous people for ministry. The Dr. William Winter School of Ministry was established in 2003 and since then, many men and women have taken courses for ministry in northern Ontario and Manitoba.
We were invited to take part in the second week of this year's School of Ministry. It is held at the Big Beaver Bible Camp, in the bush near one of the traditional settlements of the Oji-Cree people who now live on the Kingfisher Lake reserve. The day after arriving at Kingfisher Lake, we were brought by pick-up truck to the boat landing on Misamikwash Lake opposite Big Beaver Bible Camp.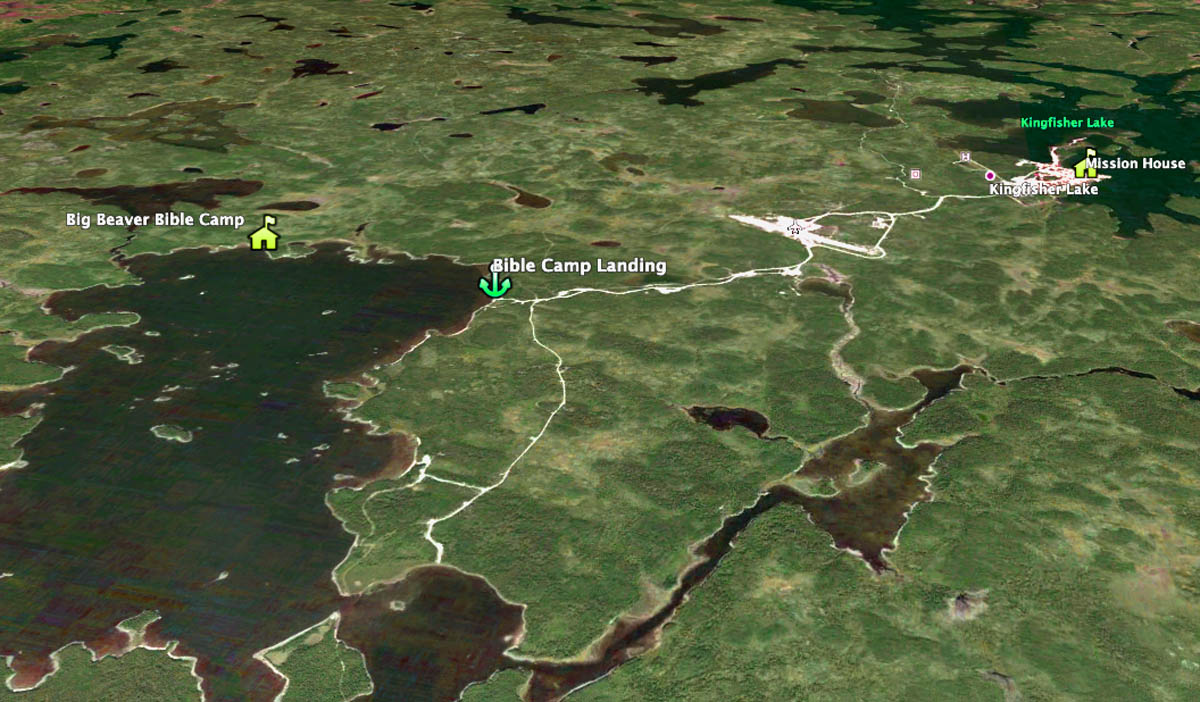 A small fleet of outboard motorboats serve as transportation to the camp, and after a 15 minute boat ride we were walking up the dock at the camp.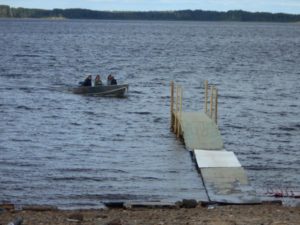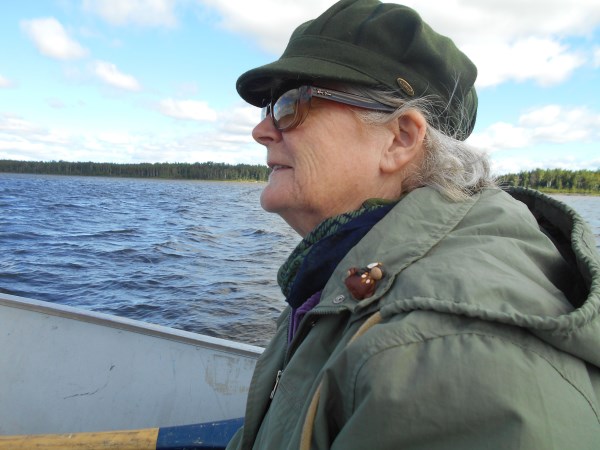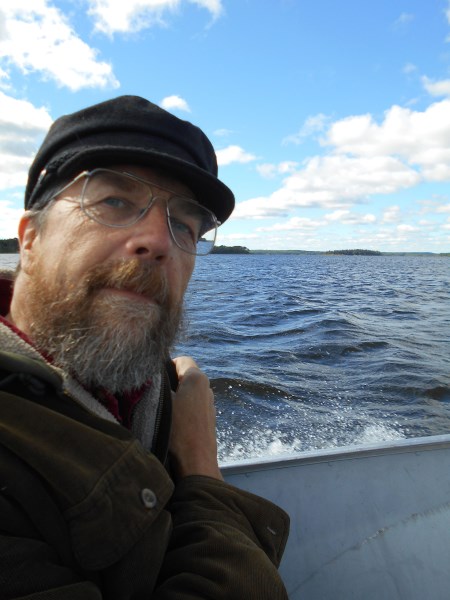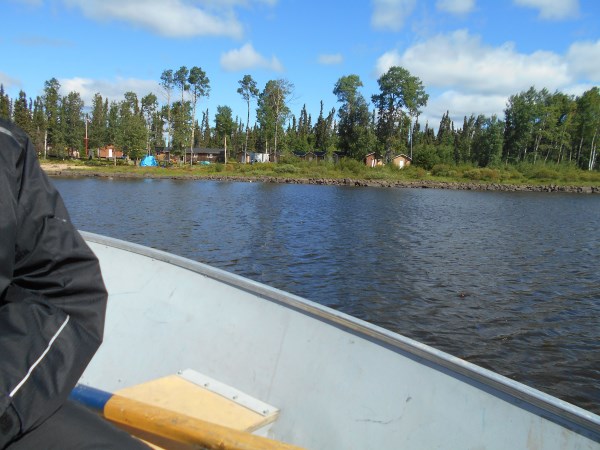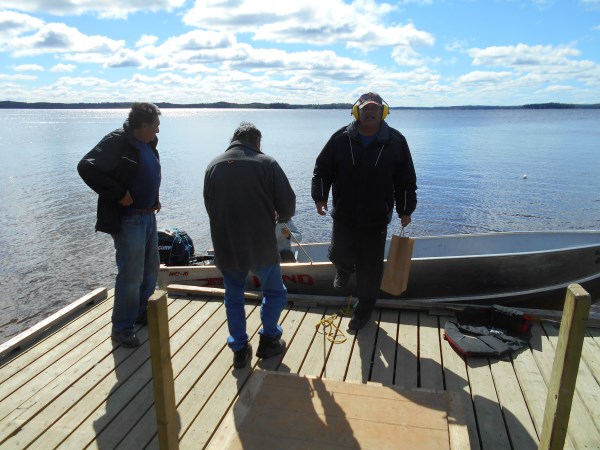 The School of Ministry features courses in Bible history, theology, and other topics useful for indigenous clergy and lay-persons involved in ministry in their own First Nations communities. It is a great hardship for non-stipendary (unpaid) indigenous clergy to take ministry courses offered at seminaries and universities so far from their homes. The School of Ministry removes most of those hurdles by providing quality education right in their territory at an affordable cost, and presented in their own mother tongue. Most of the sessions are translated directly into Oji-Cree on the spot by interpreters as they are delivered by instructors in English. Some sessions are taught by experienced First Nations clergy and/or elders right in their own language.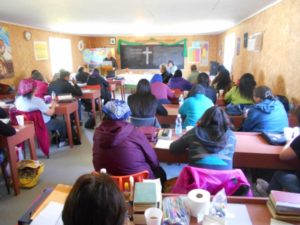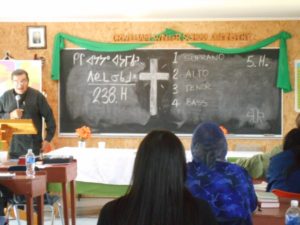 This summer's two-week session included teaching sessions that were led by the Rt. Rev. Mark MacDonald, the National Indigenous Bishop of the Anglican Church of Canada, and also by a team of Maori clergy from New Zealand: Bishop Rahu and Rev. Robert Kereopa.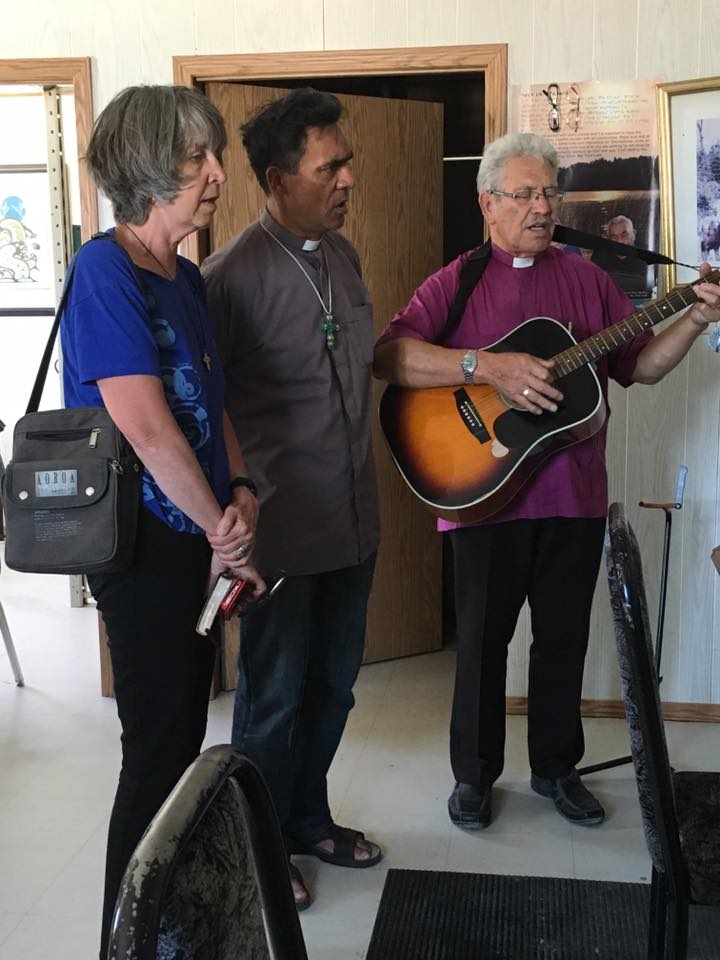 They also feature such practical classes as music and hymnody, planning worship services, and Oji-Cree language. Zipporah Mamakwa, one of the Oji-Cree translators, invited Bill to assist her in two of the language sessions. During those sessions they made a presentation to the students about the beginnings of the new local Bible translation project, and also shared hands-on teaching methods for Oji-Cree syllabics and an introduction to Algonquian grammar for literacy.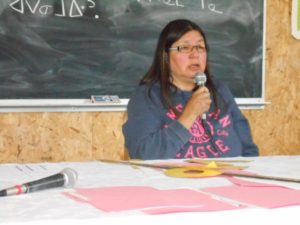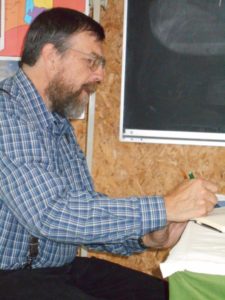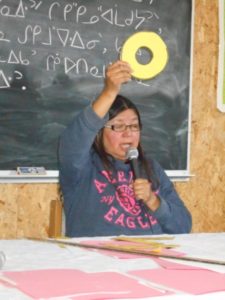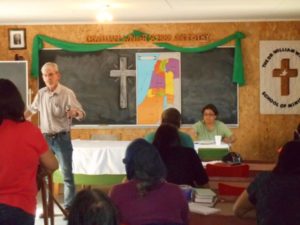 The two-week session culminated in a beautiful outdoor Eucharist service conducted by Bishop Lydia Mamakwa and all the visiting indigenous clergy and lay persons, and the recognition of all the participants.

Oji-Cree Translator Workshop
Over the weekend, the visiting participants for the Dr. William Winter School made their way back to their home communities and places of service, while the Oji-Cree translators prepared for have a Bible Translation training workshop with Bill and Norma Jean back at Mission House in Kingfisher Lake.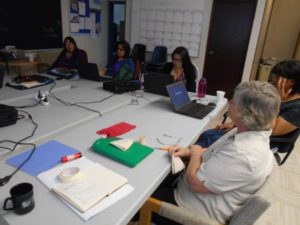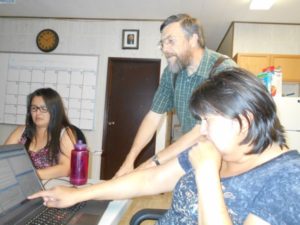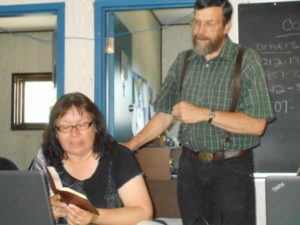 There, the they discussed and evaluated their progress toward the translation team's goals on the various translation stages: First Draft, Team Checking and Review, Community Checking, and Back Translation.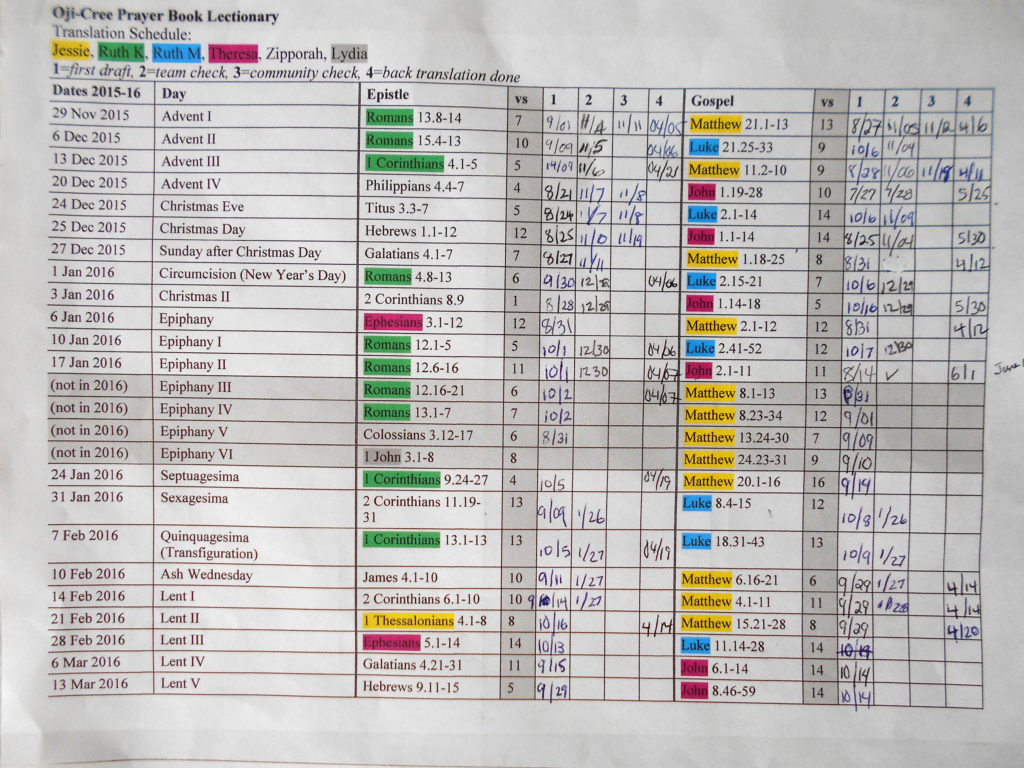 Bill conducted classes in the use of a computer-based tool that is used to assist the translators to choose consistent spelling of key Biblical terms. The computer program that we use to help us translate the Bible can also access a database of key Biblical terms that includes all the names of persons and places in the Bible, along with encyclopedic information and the proper pronunciation and usage of those terms. The translators can then discuss and approve their own spelling of those terms in their own language. The database guides them to help them to ensure that every occurrence of each approved term is spelled consistently in their language.
The translation team practiced using the tool, working through their translation and making decisions on terms such as "Moses", "Jerusalem" and "disciple", and Bill provided them with a written guide to the Tool so that they could continue to do this on their own in the weeks to come.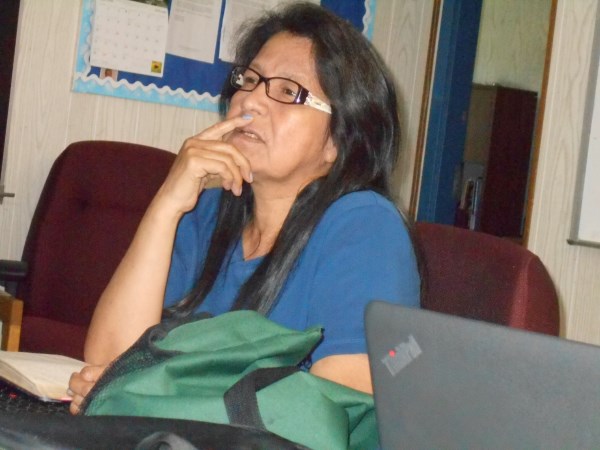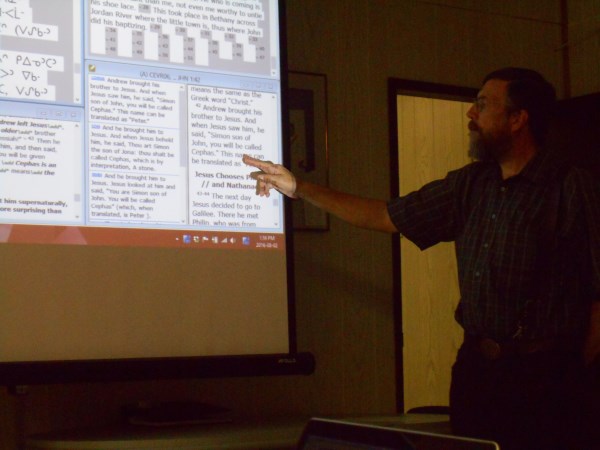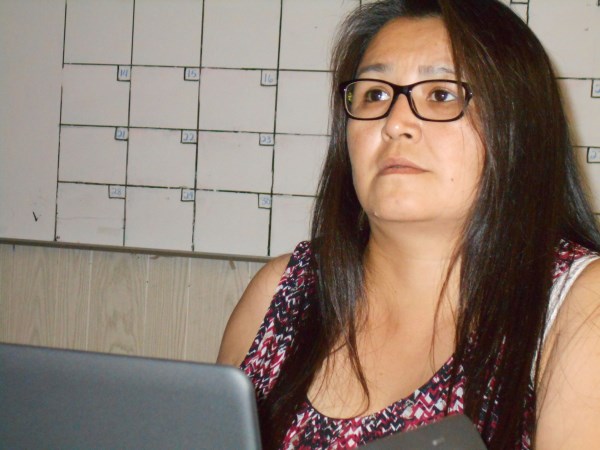 Too soon, our time was up and we were brought to the airport for the (several) long flights home, and by late Thursday night August 4 we were back in our own bed at Windham Centre.
Please remember to pray for the new Oji-Cree translation team by name:
Theresa Sainnawap
Ruth Morris
Zipporah Mamakwa
Jessie Atlookan
Dominick Beardy (not pictured–could not attend)
Rev. Ruth Kitchekesik–Ruth also serves as a deacon in St. Matthew's Church, Kingfisher Lake, and also as the coordinator of the Bible translation team, along with all of her other duties.
Rt. Rev. Lydia Mamakwa–Lydia provides much of the vision and leadership for the project, as well as serving as the diocesan Bishop over several First Nations parishes in northern Ontario and Manitoba in the Indigenous Spiritual Ministry of Mishamikoweesh (ISMM).
Pray for their families, for their work and their lives, and for God's continued guidance, provision and blessing on their work.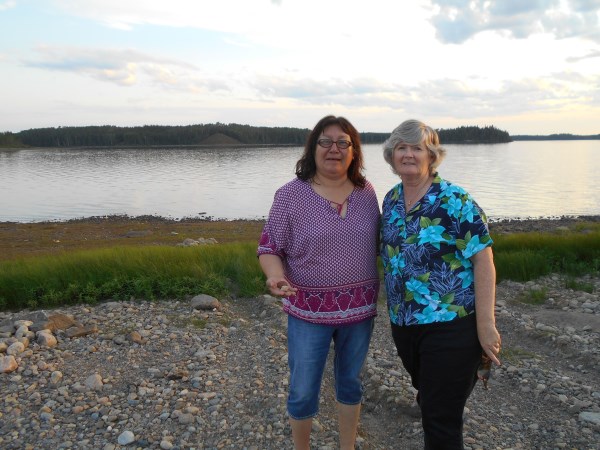 Norma Jean and I are preparing to go to work with the Naskapi translation team in just a couple weeks. Another Translation Brief will come out with prayer requests for that trip soon.
Serving with you,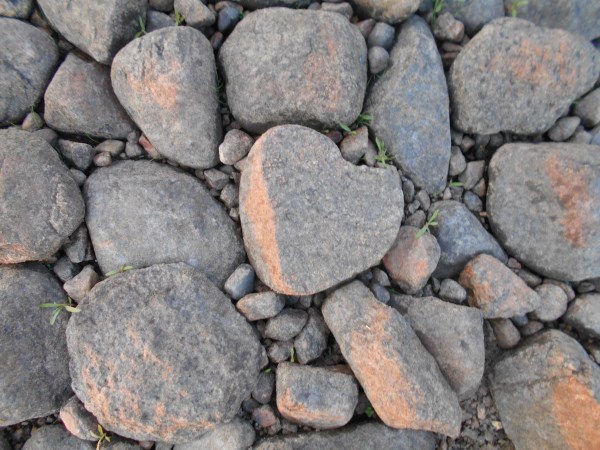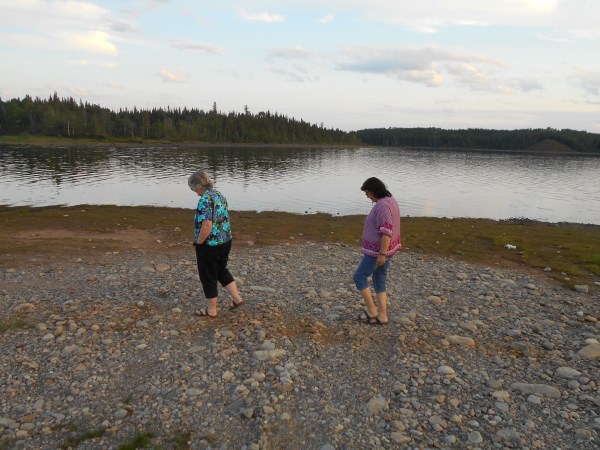 Have you thought about becoming more involved and supporting this work by visiting these websites?
In the USA: https://www.wycliffe.org/partner/Jancewicz
In Canada: http://www.wycliffe.ca/m?Jancewicz