In the previous post, we described a strategy for meeting the remaining translation needs in Canada by multiplying the work begun with Naskapi–building Bible translation capacity in the First Nations communities in Canada, and tells of our plans for a trip across the country to visit First Nations communities and work with the Naskapi team. This post completes our summer newsletter with personal notes and contact information.
Living on the "west coast"
While Norma Jean is completing her MA program course work in British Columbia, we expect to remain based here to be close to Trinity Western University through the first half of 2015. We are able to support the ongoing Naskapi work by e-mail and Skype, while deepening our linguistics and academics through networking with CanIL staff and students.
Family Matters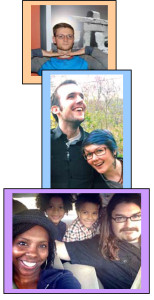 Our son Nick is continues his studies in social work, and continues his enrolment in the undergraduate program at Trinity Western University. He will again be living on-campus in the dorm here. This summer, he's pleased to be working full-time as a technician at a local sporting-goods retail outlet. It has been great to have him nearby.
Elizabeth and Eric are living in Connecticut, pursuing their musical and artistic endeavors. We are so proud of their accomplishments. Elizabeth continues to be involved in First Nations work by beautifully illustrating some of our literacy books.
Ben and Tamika live with their two children in Baltimore, and have been out to BC several times this year to see us. It is great to connect with them and especially our grandchildren Nya and Arion.
Thank you for your prayers for our ongoing work and school, as we continue to serve and look with anticipation toward the expanded roles God has given us in First Nations Bible Translation across Canada.
Serving with you,
Bill and Norma Jean Jancewicz / 25133 0 Ave / Aldergrove, BC / V4W 2H4 CANADA
home phone 604-381-4440 (still no cell phone… yet!)
e-mail:         bill_jancewicz@sil.org        normajean_jancewicz@sil.org
If you are not yet receiving our newsletter by e-mail and you would like to, or if you would like to begin partnering with us with prayers or financial support, please contact us.
website:     bill.jancewicz.com

You may connect with, pray for, and provide financial support to us directly through these Wycliffe websites (just point and click):
Wycliffe Canada: http://www.wycliffe.ca/m?Jancewicz
Wycliffe USA: https://www.wycliffe.org/partner/Jancewicz