Our Dear Partners,
When the speakers of the First Nations languages that are still waiting for adequate access to the Bible in their mother tongue met with us last year in Prince Albert <click here>, one of the things that they requested was training and learning opportunities for speakers of these languages to gain translation skills of their own. This training became a central component of the First Nations Bible Translation Capacity-Building Initiative. This month, we are conducting a Mother-Tongue Translator (MTT) Workshop at the Guelph Bible Conference Centre in Guelph, Ontario.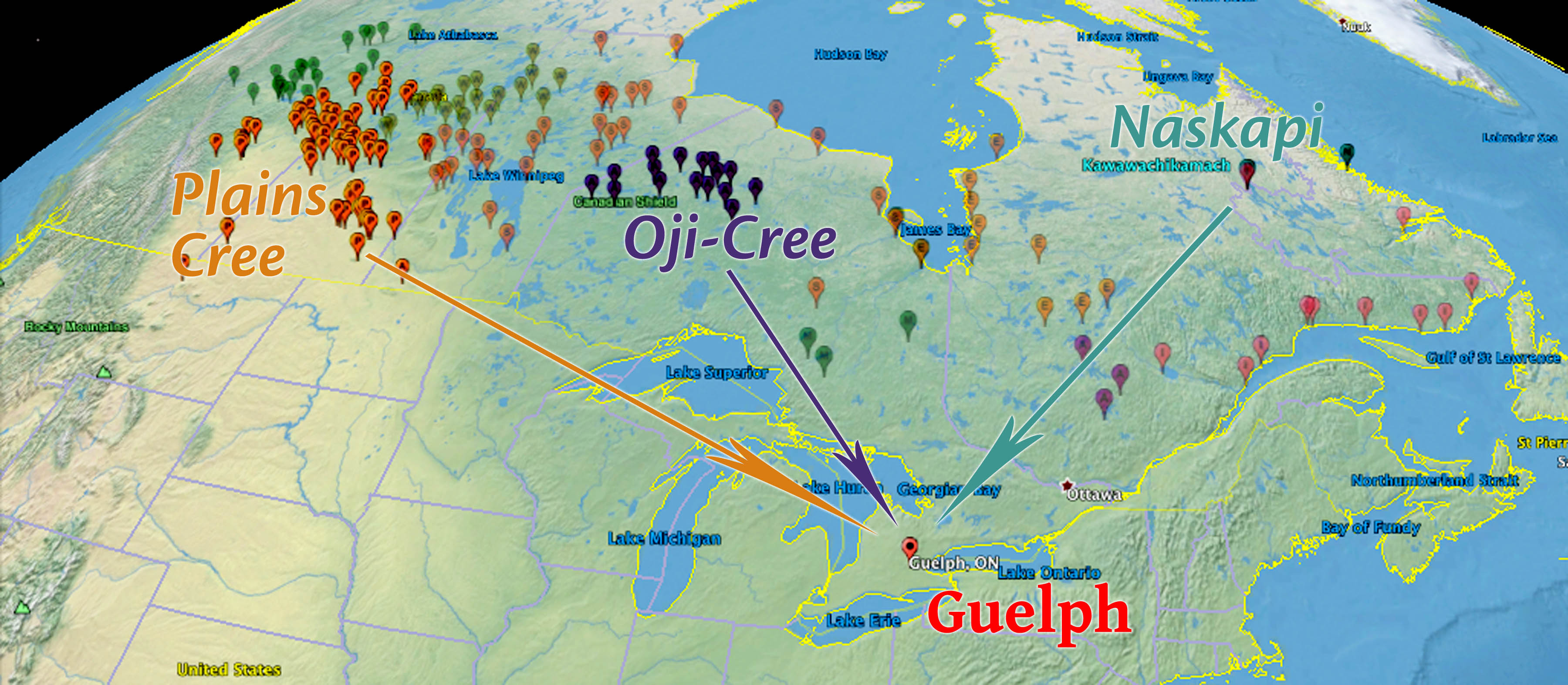 We have invited First Nations language speakers from across Canada who are interested or already engaged in working in their own languages for translation and language development. An intentional component of this workshop is integrating experienced mother tongue translators with beginners, and bringing together those who are already engaging with the scriptures in their own language with those who still have no such access.
The response has been encouraging, and we have been working hard at preparing the program of study and learning modules for the week of the workshop. Our ministry and technical partner, the Canadian Bible Society, is sponsoring the workshop and we will share the facilitation of the workshop sessions with them.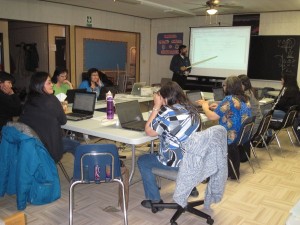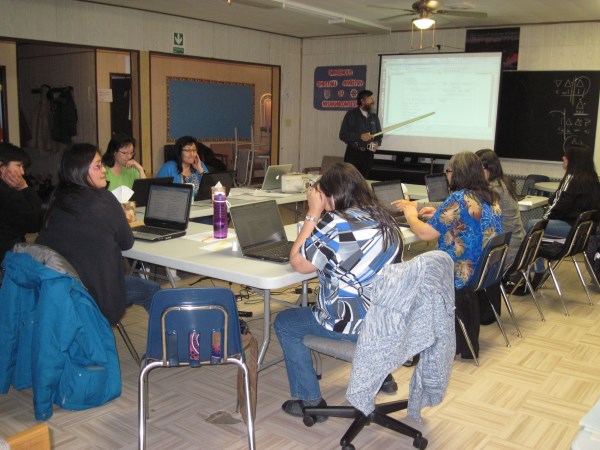 The Oji-Cree Bible Translation committee from Kingfisher Lake <link> has identified and recruited five Oji-Cree speakers from their community, Ruth K, Ruth M, Zipporah, Theresa, and Jessie, who will come and be trained at this workshop. The Bible Society has also helped to meet some of the practical needs of this group by providing five new laptop computers, a printer and a projector for the day-to-day use of their translation team. We will give them the initial training they need to get started, and they will bring their computers back to their community to continue their translation work in the months to come. Bishop Lydia Mamakwa, one of the catalysts for the Kingfisher Lake project, hopes to also come to address the group.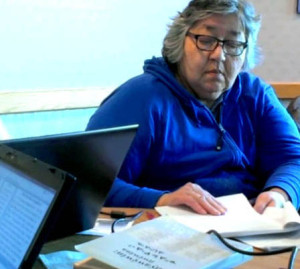 Gayle, one of the Plains Cree speakers who has worked for many years on the (Cuthand) Plains Cree <link> translation project will be with us for the workshop, and will be working on some of the consultant checking and review of these scriptures.
The "Fantastic Four", (Amanda, Kissandra, Kabimbetas, and Medora) the new team of Naskapi Language Specialists, working on four different books of the Naskapi Old Testament <link> in Kawawachikamach are all coming to continue their language development and translation training, and also to be introduced to the new software programs that they need to master to become better at their translation work.
They are joined by two more experienced members of the Naskapi translation team, Silas and Tshiueten who have worked most recently on the books of Genesis <link> and Exodus, respectively. Also from the Naskapi community we will welcome George who is not only a community leader but also an experienced translator who has been involved in bringing the Naskapi scriptures to his people for the past 20 years. He will be joined by Cheyenne, a church lay-reader and educator who leads a Naskapi Bible study, and Seasi and Jessica who work at the Naskapi school in Naskapi language literacy and teaching.
The schedule includes translation principles and basics, courses in the use of specialized translation software, commentaries and reference works, as well as times for discussion of "best practices" and resources for Bible translation teams that are managed and directed by their own local community and church members. There will also be devotional Bible studies and time to sing hymns (in Cree, Naskapi and Oji-Cree) and sharing and fellowship.
Bill and Norma Jean will be arriving in the Guelph, Ontario area from British Columbia on April 15,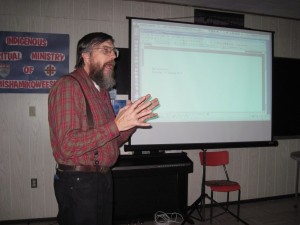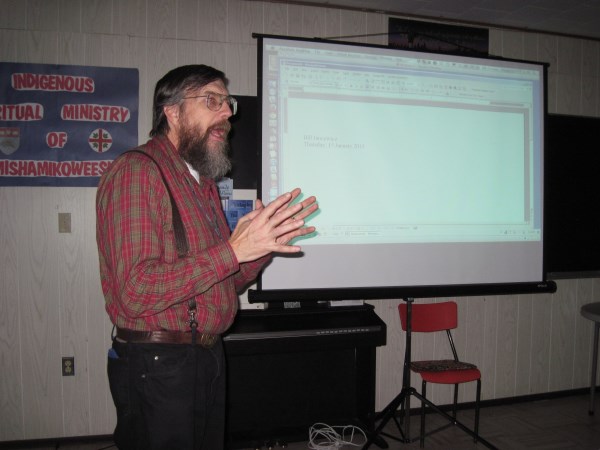 the Wednesday before the workshop to spend time with the rest of the workshop facilitation team at the Bible Society offices for the final preparations and configuring the new computers for the Oji-Cree translators. The participants will begin traveling to the workshop from their home communities on Friday, April 17–it will take most of them two or three days to travel to the workshop location. The workshop itself will be Monday to Friday, the week of April 20-24, all day long each day. On Friday afternoon, most of the participants will begin their long journeys back to their home language communities to apply the new things that they have learned and to continue working on their communities' Bible translation and language development projects.
We have listed all the names of the participants so that you can pray for them by name–we would also request that you pray for the workshop and all the participants and the facilitators each day of the workshop, and for travel mercies and safety before and after. Some of the younger women participants are expectant mothers, and long travels and a busy workshop can be especially difficult for them–we know that they would appreciate your prayers as well.
Thank you once again for your interest and for sharing our vision for the First Nations Bible translation movement.
Serving with you, Bill and Norma Jean
Partners in the USA can connect through Wycliffe USA:
https://www.wycliffe.org/partner/Jancewicz
Partners in Canada can connect through Wycliffe Canada's website:
https://www.wycliffe.ca/wycliffe/m?Jancewicz