Our Dear Partners,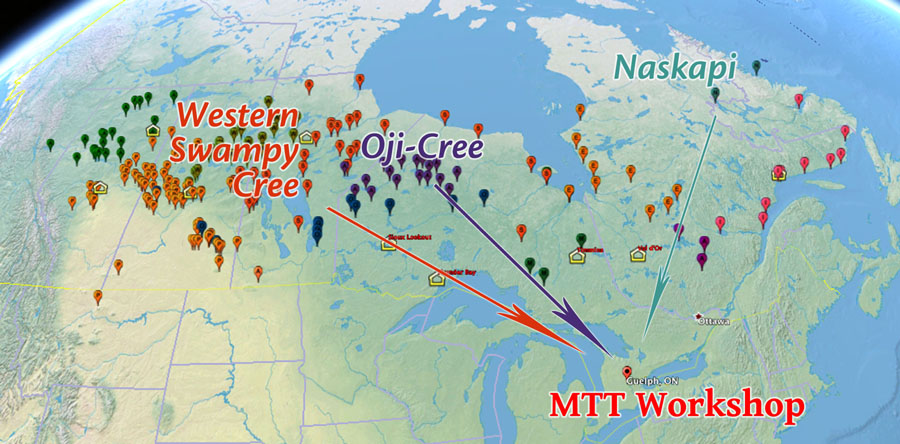 Next week, the Mother Tongue Translator (MTT) workshop for First Nations Bible translators will be held in Guelph, Ontario (April 15-20).
What are these workshops for? They are a response to the request from First Nations church leaders and community members themselves, to bring together people from different related language communities, creating a safe environment for mutual encouragement, and equipping their own community members and speakers of their languages to more adequately handle the complex task of Bible translation.
The program this year is multi-tracked to accommodate both beginner and more experienced translators.
We are also planning a program that includes:
Oral Bible Storytelling:
This year, besides the usual modules covering translation principles, we are also pleased to announce that there will be an extended focus on Oral Storying. First Nations culture places a high value on storytelling, and this approach ties together the Stories of our Creator and His love for His People with the traditional First Nations practice of passing stories to the next generation orally in their heart language. These story modules will be facilitated by Rod & Liesel Bartlett.
Old Testament Sacrificial System:
This year, guest instructor Steve Kempf is introducing the topic of sacrifice in the Old Testament, in particular, the key terms for each of the five main sacrifices as well as how the sacrificial system worked. He is also presenting about the Day of Atonement and its significance as perhaps the most holy day in the Israelite sacrificial system. There are a lot of key terms here that extend throughout the Old Testament which help us to understand the significance of the death of Jesus Christ.
Participatory Methods and the Future of Our Language:
Another guest instructor, Carletta Lahn will continue applying the theme of participatory methods to grassroots local indigenous language program planning to help with the maintenance and sustainability of these threatened mother tongues.
Pray that all these who come will experience God's anointing, protection and provision as they travel from near and far and serve First Nations language communities.
Thank you for your prayers for the staff, participants and the program of the upcoming 2018 workshop.
Also remember those traveling from long distances, as they pack and plan their trips this week. Our next message with prayer requests will be from the workshop site next week.
Serving with you,
Bill & Norma Jean Jancewicz