Our Dear Partners,
Thank you for praying for the upcoming Mother Tongue Translator Workshop participants last week. Please keep them in your prayers through the next few weeks. We'll send you another reminder.
This week we are also asking you to remember the staff for the upcoming workshop: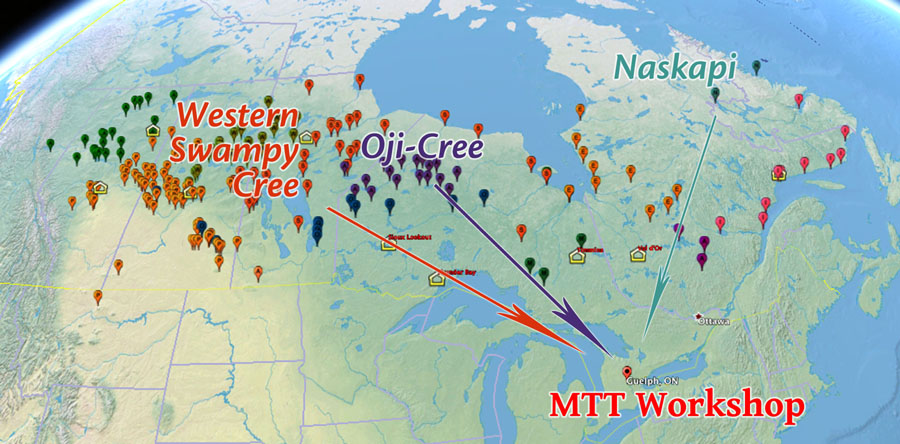 The next Mother Tongue Translator (MTT) workshop for First Nations Bible translators will be held this April 15-20 in Guelph, Ontario.
First Nations church leaders are seeing their vision for workshops that bring together people from different related language communities realized: creating a safe environment for mutual encouragement, and equipping speakers of their languages to more adequately handle the complex task of Bible translation.
We are blessed, especially this year, to have a large staff to share the teaching and facilitation tasks for the workshop sessions. We hope that you will find the time to pray for each of these staff members by name:
Cree Initiative "Next Generation" teams:
Alice & Martin Reed
Matthew & Caitlin Windsor
Meg Billingsley
Bill & Norma Jean Jancewicz
Senior Translation Consultants and Bible Translation Facilitators with SIL/Wycliffe BIble Translators and the Canadian Bible Society (both active and 'retired')
Steve Kempf
Ruth Heeg
Jeff Green
Rod & Liesel Bartlett
Colin & Dot Suggett
Scripture Access team leader for SIL Americas "North Region"
Carletta Lahn
Other participating SIL & Wycliffe Staff
Beat Kunz
Colleen Boyd
Tom Woodward
Brandie Green
Special guests
Bishop Mark MacDonald
Dr. Cindy Westfall
Tom & Bethany Scott
There is still the possibility of a few more staff and/or guests. We will keep you posted.
Pray that all these who come will experience God's anointing, protection and provision as they travel from near and far and serve First Nations Bible Translators.
Thank you for your prayers for the staff and participants at the upcoming 2018 workshop.
Serving with you,
Bill & Norma Jean Jancewicz