Our Dear Partners,
After the First Nations Bible Translation Capacity-Building Gathering that was held at Prince Albert, Saskatchewan in 2014, there were several projects that were prioritized, including work on Oji-Cree, Cree and Naskapi Bible translation projects, along with activities focused on building the capacity of the local communities to accomplish these translation goals. One necessary part of capacity-building includes the recruitment and training of new Bible Translation facilitator teams to work alongside language speakers in their communities in the north.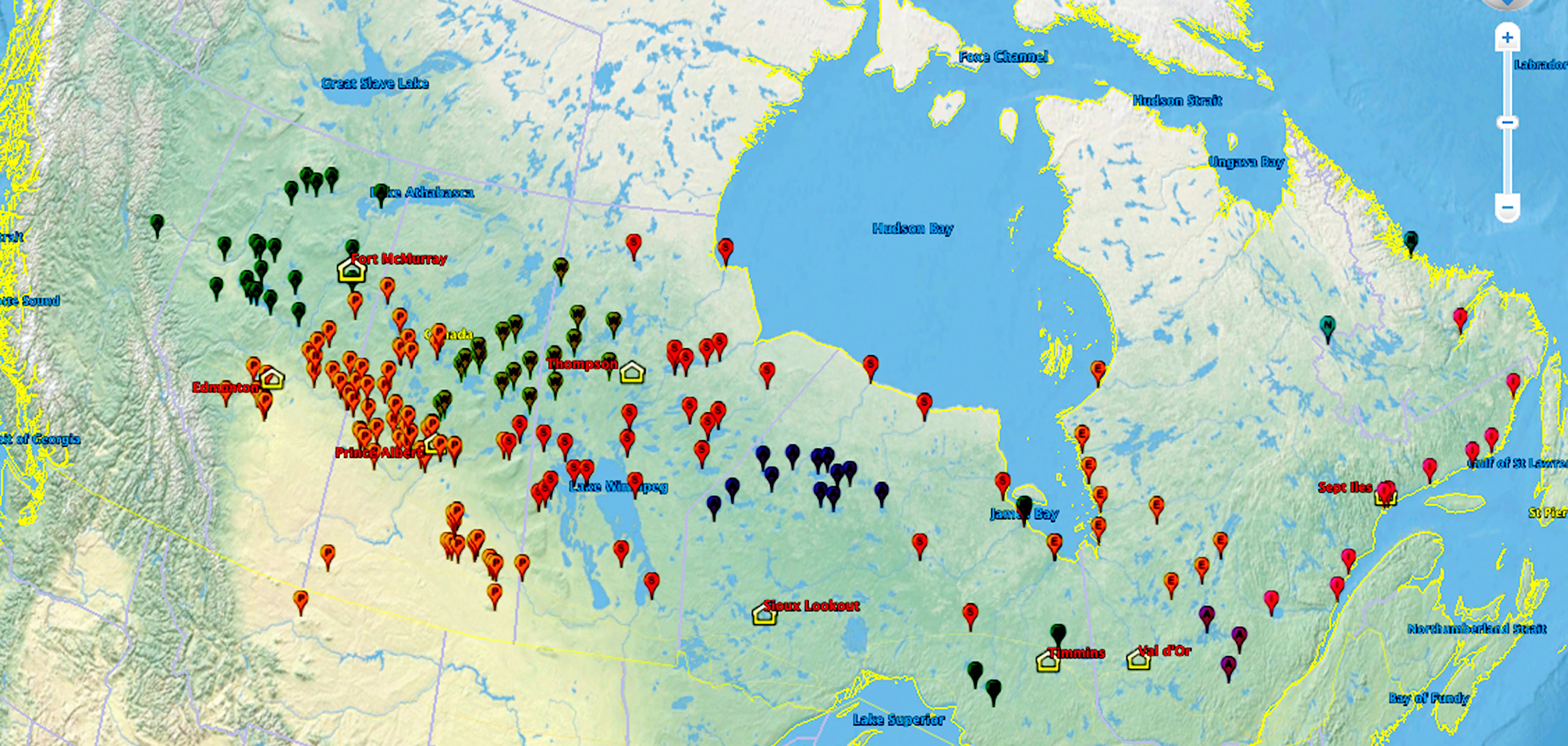 A key part of the preparation for these Bible Translation facilitator teams is a period of in-field training and language service with the Naskapi translation project. During this time of gaining experience living in an isolated northern First Nations community, the new teams will serve the Naskapi as Linguistics Interns, taking part in the facilitation of a real ongoing language program there.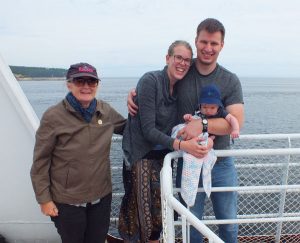 To help the new teams with a smoother transition to their in-field training period, they accompany us on one of our working trips to the Naskapi community. In August of 2018, David & Avery Standley (and baby Azariah) came with us to visit the Naskapi community of Kawawachikamach, as their part of their introduction to the situation in Canadian First Nations, as well as a chance for us to get to know them better.
You may remember that in 2015, Matthew & Caitlin Windsor accompanied us to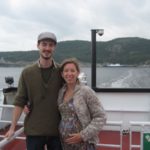 Kawawachikamach on a similar visit. You can read about that trip at this link here <link>.
And then in 2016, Martin & Alice Reed came with us to Kawawachikamach on their first visit there. You can read about that trip at this link here <link>.
Martin & Alice are now serving speakers of the Western Swampy Cree language in northern Manitoba, and Matthew & Caitlin are serving speakers of the Oji-Cree language at Kingfisher Lake in northern Ontario.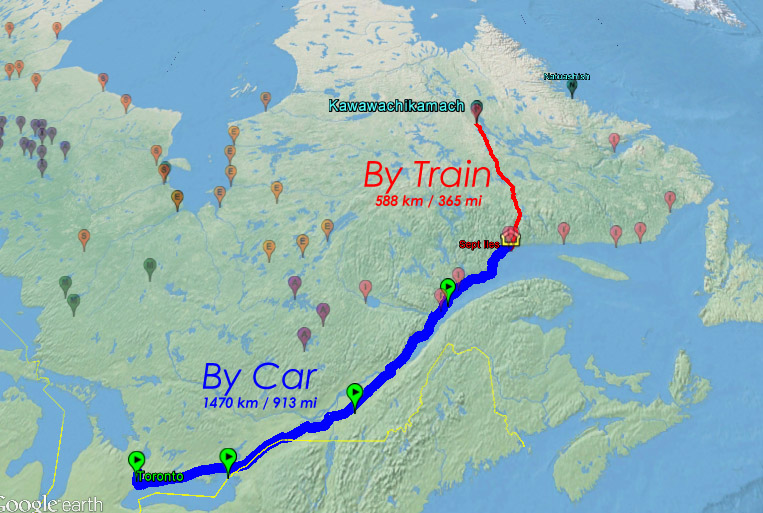 On this year's trip, beginning last August 18, we picked up David, Avery & Azariah at the Buffalo, NY airport, and from there we drove for the next four days together up through southern Ontario and along the north shore of the St. Lawrence in Quebec to Sept-Iles, were we boarded the train to Schefferville. The train ride this time was 16-1/2 hours, arriving at Schefferville near midnight. We were met at the train by Naskapi translator Silas, who brought David & Avery to the Naskapi community of Kawawachikamach in the wee hours of Friday morning, August 24.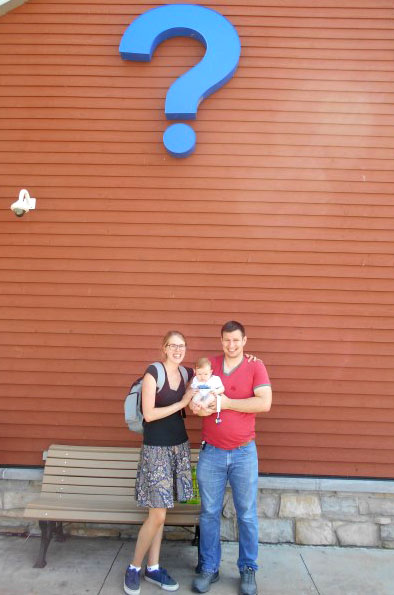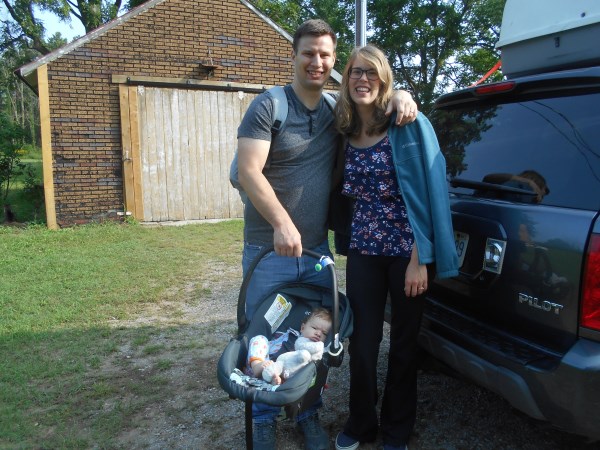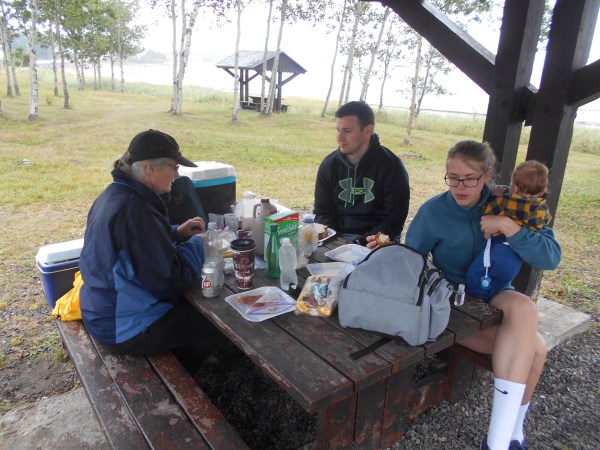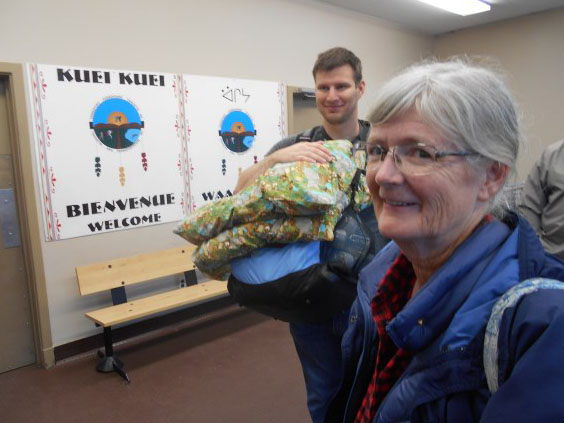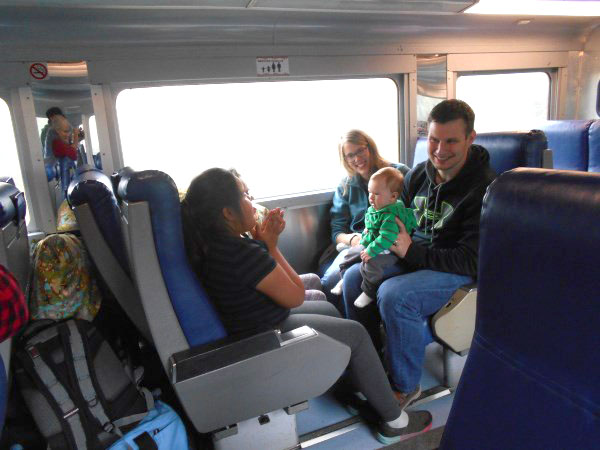 Naskapi Translation Team Capacity-Building Workshop
Each workday we met with the Naskapi translation team to work through the various stages of translation for the current active Naskapi Old Testament translation projects, moving them closer to their goals. The team is now working on the books of Deuteronomy (Tshiueten), Joshua (Silas), Judges (Amanda), and Esther (Ruby). They have also just started work on the book of Job as a team project.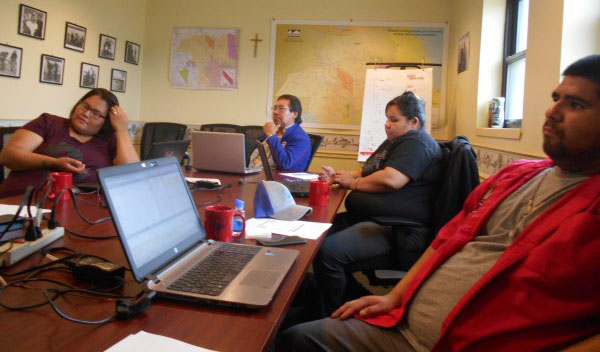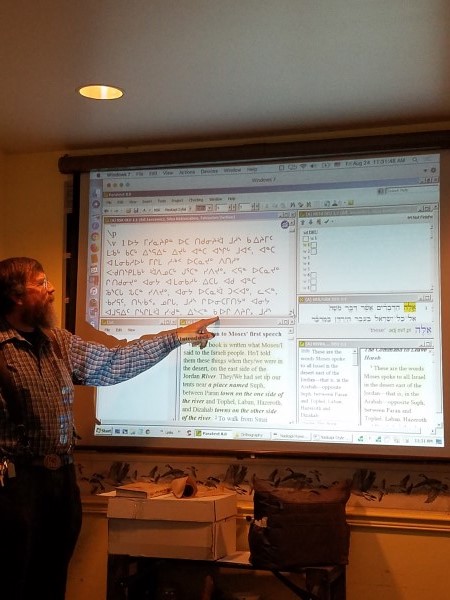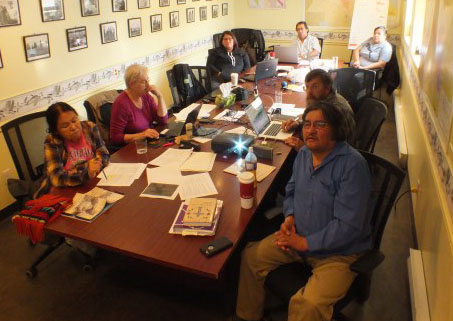 We also worked with other speakers and elders on revisions to the Naskapi dictionary, descriptions of the Naskapi grammar and books of Naskapi stories. Retired consultant linguist Dr. Marguerite MacKenzie from Memorial University in Newfoundland was on hand to provide her help and guidance with these projects.
The Naskapi translation team learned more skills in how to use the computer-based translation resources that are available to them, along with reminders of the importance of the several other stages of Bible translation that come after the (1) "First Draft" is made, such as: (2) "Team Checking" of the passage with other members of the translation team to ensure accuracy, (3) "Community Checking" with elders and other members of the community to ensure clarity and naturalness, (4) "Back Translation" so that the text can be reviewed by exegetical consultants, ensuring that the entire meaning of the text is communicated.
David & Avery not only got to be a part of the workshops during the day, but also enjoyed connecting with the Naskapi people in the community outside the office, in recreational sports and community activities.
Linguistics Internships
Some have asked if the new teams that God is sending to work with us are our "replacements". Well, not exactly. It became clear that God is at work in many First Nations language communities across Northern Canada, and that for us to simply move on to just one other language project after Naskapi would not nearly begin to meet the need,
besides the fact that the Naskapi team still requires continued support. So in answer to your prayers God has called additional Bible Translation facilitation teams like the Windsors, the Reeds, the Scotts and the Standleys to help serve in some of these other First Nations Bible Translation projects. And these are not all, either. See this post for more about these "Next Generation" Bible translation teams: <link>
Since the languages are all closely related, and the values and culture of these language communities share a lot in common, their planned in-field training period serving in a linguistics internship with Naskapi for several months will continue to support the Naskapi project in significant ways, moving the
Naskapi team closer to a sustainable level of capacity, while also giving the new teams the practical skills and experience that they will need to work in the language communities that are still waiting for God's Word in their mother tongues.
This will also enable us to leverage our own experience so that we can support these new teams as mentors, while God continues to use us to assist the other language projects where we still have the privilege to serve.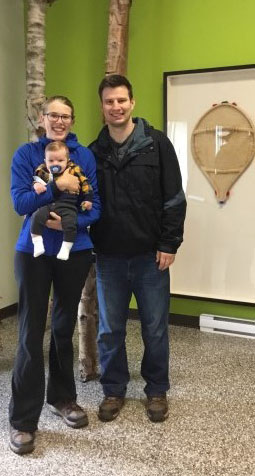 The Standleys hope to begin their Linguistics Internship with the Naskapi project sometime in the next year or so, and be ready to move on to another related language community, such as Innu, or Cree, who even now are still waiting for the scriptures in their own language.
Prayer Requests
Please continue to pray for David & Avery (and little Azariah) as they continue their steps of preparation and seek adequate support so that they may move to the north and begin their internship.
Pray for us that we will be sensitive to God's leading and faithful to His call as we provide guidance to these new teams.
Pray for the First Nations language communities that we have already begun to work alongside of, and for those who are still waiting to have the message of God's love and hope in their own languages.
Pray for the Naskapi team as they work toward their Old Testament project goals and learn to work in their own language program with more and more confidence and ability.
Thank you for your own interest, support and encouragement for this work that God is doing in minority First Nations language communities in Canada.
Serving with you,
Bill and Norma Jean