Our Dear Partners,
Like you and everyone else in the world, meeting and working face-to-face with people from different places has been restricted for us for more than a year.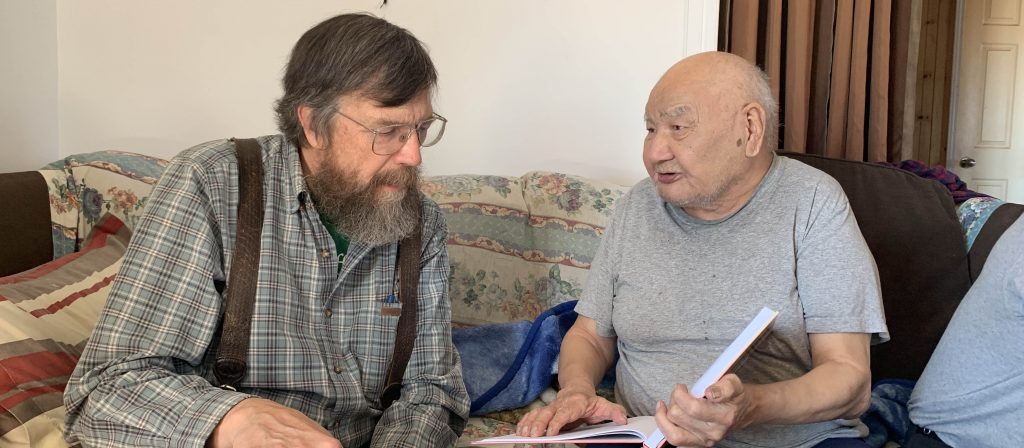 The picture above, taken in 2019 is me (Bill) and the late Philip Einish Jr., one of the Naskapi elders who we partnered with to help put the scriptures in the Naskapi language. Philip passed away in the summer of 2020, but we are still carrying on with his vision, even though we cannot meet face-to-face like that.
But since the end of February, we have been meeting virtually with some of the translation staff who have come out of retirement to assist with Naskapi language projects. Thanks to a new high-speed fibre-optic Internet connection at the Naskapi community, it has become practical to do this kind of work on a regular basis. The Covid-19 restrictions have also inspired the translation office to upgrade their infrastructure as well.
Since January, Bill has also conducted a weekly Virtual Naskapi Community Language Course, during which the participants practice Naskapi reading and writing: the textbook? The Naskapi Bible. Week by week we have had between three and fifteen Naskapi adults learning to read Naskapi using the Bible in their own language.
It was hoped that conducting this course might also inspire some of the participants to consider whether they might want to be trained to participate more fully in the Naskapi Bible translation work themselves. That still remains a possibility, but so far most of the participants are already busy with other things.
---
But help has come from unexpected places. One of the retired Naskapi school teachers and another retired Naskapi translator have agreed to review the draft copies of the scriptures by hand at home, and just last week I received a package in the mail containing all of their suggestions and corrections.
Also, in the middle of March 2021, one of our retired senior translators Silas agreed to meet with me each week to review chapters of Exodus in order to finish the remaining steps required to bring this book to publication.
We have also experimented and developed innovative ways for Silas to produce audio recordings of chapters from the Naskapi Book of Psalms. Over the past several weeks, we have completed the recording of Psalms 1 through 17 in this way.
Just last week on April 21, 2021, Silas was able to connect with Bill over the Internet from "out in the bush", while staying at a remote hunting cabin in northern Labrador. Silas's brother-in-law has set up his cabin with a remarkably quiet electrical generator and a satellite-based internet connection, through which we were able to complete the checking on another chapter of Exodus, and also recorded three more chapters in the book of Psalms.
You may remember that Bill's mother Martha passed away a year ago this month at the age of 94, and we were unable to have a funeral or memorial service for her at that time. Our family is planning a memorial service on the one-year anniversary of her passing, on Saturday May 1. So Norma Jean and I plan to travel to the USA for a week to attend that service. We will be leaving on Tuesday, April 27 and traveling by car to Connecticut, spend 7 days there and return on May 3rd. We will be complying with all regulations that we are aware of in all the areas we are traveling through. We do know this, that upon our return to Ontario, we must arrive with documentation for a negative Covid test, take another test at the border and then another one after 10 days in Ontario; we will also be under a mandatory 14-day quarantine.
The Children's Aid Society has made arrangements for temporary foster homes for the three children still in our care. Still, it's getting hectic here this weekend as we are packing for three trips: Emma (6) and Lucas (7) are going to one house for at least the three weeks, Remmy (3) going to another house for the three weeks, and also packing for Norma Jean and I going to Connecticut for one week: lots of laundry and separating toys and school stuff. We bring Remmy to his new place Monday afternoon, Emma and Lucas on Monday morning, and then we leave early Tuesday morning.
---
Thank you for remembering us in your prayers: our travels, our continued work with the Naskapi translation project, the Naskapi translators and their community, and the children from Children's Aid.
Serving with you,
Bill & Norma Jean Jancewicz
PS: In case you missed it, click this internet link below and read a well-written article from SIL International about the Naskapi language project: